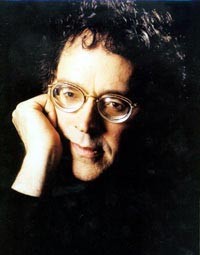 Joshua Pierce
Photo by Peter Schaaf
As to what I'm looking for in a contemporary piano composition—at first thought, I'm not always sure… But then, in thinking and re-thinking more about this question, many interesting ideas/thoughts come to mind.
I guess one has to start, generically speaking, with a group of composers—known, or not so well known. Then, pick one or two and proceed to learn, study and listen to as much as you can about their respective compositions on CD or, if possible, in live performances. Then comes the tryout of various works on the piano. As for me, I've looked at hundreds of works over the years, performing many, and then discarding many. The more you play, the more involved you become, the more discerning you are in making an accurate choice. But then again, this can be said of music of any century, time period, culture and genre.
Music must speak directly to you—something special, or of unusual interest—to make you feel totally connected to it. Whatever the composer has on his or her mind, it must "hit" you in a particular and personal way, otherwise it can be a complete waste of time. What interests a musician in a composer anyway? Is it their background, former education, political know-how, and connection? Whatever the case maybe, the composer has to have a voice, a solid point-of-view; personality. If he or she has that, then nothing else matters… If they don't, they might as well quit! The same is most definitely true for the pianist; even more so. Many years back, I went through a whole litany of John Cage compositions and works by Toru Takemitsu. I was fascinated and amaze. Their musical ideas and rhythmic structures, though very different, interested me to no end. In particular, Cage's sophisticated use of silences in composition clearly delineated his defining concepts of 'light' and 'dark' textures, or for that matter, the density of music with its implications towards ramdomness; chance and his singularity towards spaceousness. We talked about what he felt in his heart to be the zen notion of "the decline of energy" and the notion of minimal is maximal, if you will. Takemitsu, on the other hand (I played several his works for him as part of the Seattle Spring Festival of Contemporary Music in 1992. I also was honored with the Seattle premiere of the Sonata for Viola and Piano by Dmitri Shostakovich with violist Paul Coletti) used a highly skilled, expressionoistic pallet a la Debussy/Ravel to capture all the beauty and expression of the piano as to its color and percussive qualities akin to the human voice. All in all, it seems to come down to the ability to be both spontaneous and exciting, and, in the end, to be able to paint a beautiful canvas in 'sound'.
This is the defining moment for most composers. Right now, I am in the midst of many performances and recordings sandwiched in between the music of Michael Harrison and Kirk Nurock. First, they are both unique in their own respective and unique ways. Both have a great deal to say. Both understand the piano exceptionally well! Thank God! I still have much to explore, but the process has been an exciting one for me. The challenge of exploring new compositions with respect to their individual concepts of sound, timbre and tuning has its many rewards. To discover and rediscover, to learn and relearn is a continuing process. What is also important and continually redefines the composer as creator is the individuality and personality of the interpreter. The two are 'spiritually' and emotionally tied together!