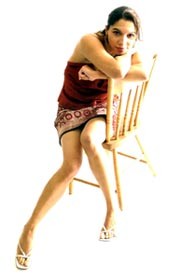 Lara Downes
Photo by Neil Michael Axiom, courtesy Crossover Media
I look for resonance in both a personal and a purely musical sense. What usually appeals to me is music that reflects some facet of my own musical personality: dramatic, funny, sexy, whatever. I'm always looking for music that really explores what the piano and the pianist can do, where the instrument's great lyrical and dramatic qualities are well served, and technical and interpretive difficulties are thoughtful and ultimately gratifying.
Even Liszt at his most impossible wrote with a pianists sensibilities and abilities, just like many contemporary composers, such as Frederic Rzewski, Lowell Liebermann… That's the music I look for: wonderful, exciting new music that continues the great piano tradition, interpreted in a thoroughly 21st century language.