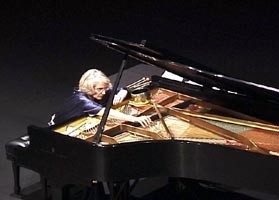 Lois Svard
Photo by Dale Hourlland
I have always been fascinated with the music of composers who push the envelope, whether it is Franz Liszt flirting with atonality in the 1880s, Henry Cowell playing on the strings of the piano for the first time in the 1920s, or Annea Lockwood using super-ball mallets, water glasses and a bowl gong inside the piano in the 1990s. I love the unusual sounds that are made possible by different approaches to the instrument.
But unique sounds or a different way of playing the instrument aren't enough. A new piece of piano music must also communicate. Pianists are remarkably fortunate that such an extensive repertoire exists for our instrument. The very best of it has an ability to communicate to today's audience, regardless of the decade or century in which it was written. I try to look for that same kind of communication in new piano works. Is the work based on something other than technique? Does practicing this work reveal new levels of meaning, or is it all on the surface? Do I learn something about myself from this work? If the work doesn't speak to me, I won't be able to communicate its message to an audience.