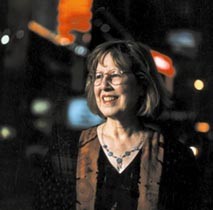 Martha Braden
Photo by Jay Palit
What I look for from a pianist's point of view is:
…A new piece that might receive a world premiere, publication, repeated performances by other pianists, inclusion in masters programs, and perhaps—if merited—eventual archival preservation and research. This is encouraging to the patron who will commission the composer to make a new piece.
…Pieces by English-speaking women (e.g., Barbara Kolb, USA; Sally Beamish, Scotland; Caroline Ansink, Netherlands).
…A piece based on a "fresh sonority" (a new combination of pitches) that doesn't remind me of anything specific at first. If the composer's unfolding of that core idea brings a new insight that touches me, then I can move my audience (e.g., "Random Walks" by David Kraehenbuehl).
…Occasional partnership with an electronic composer treating the acoustic pianist to real-time processing or new phenomena (e.g., the exciting new work of Peter Otto, University of California/San Diego).
…Something fun, like a solo piano opera on love, a tragicomedy in 9 minutes!
…Pieces specially selected for adults who are new listeners of contemporary music. The pianist needs to monitor levels of musical difficulty, length, quality, and abstraction. Since 1958, I have built concert programs of music contrasting in all styles from all eras, which is refreshing and builds confidence in the listeners' own abilities to sense the differences in music. I coached with classicists Earl Wild and Julius Hereford. I also coached with, performed and recorded New York-based composers Ross Finney, Ned Rorem, Ray Green, and Alexander Tcherepnin. All of them told me that the pianist contributes to a composer's success, which I take as a mandate.
…Challenging repertoire for audiences who already thrive on new music. The pianist, while still acknowledging the value of studying and performing standard classical music, should present the newer composers, e.g., Behzad Ranjbaran (The Juilliard School), Anthony Davis (also New York City), and other award-winning young composers (Paul Witney, Australia).
…Classical pieces for children to listen to, not to play. Currently, I am releasing a set of compact discs entitled A Pocketful of Music: Classics Composed for Children 1730-2002, consisting of very short piano works by 58 composers, half of which are modern. Parent and child listen to one mini-concert at a time, gradually accumulating "a pocketful of music…". Together they develop an exchange of ideas and an appreciation of music. Together they compare all musical styles.
Pianists do profoundly affect audiences. Pianists use that influence to bring more adults into music of today. Adults mentor the children in musical taste, and children form the core of the renewed concert audience.