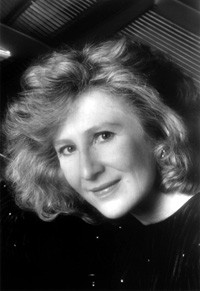 Ursula Oppens
Photo by Christian Steiner, courtesy
Short and fun—or short and funny. Some of my absolute favorite pieces are Wuorinen's Blue Bamboula, the Nancarrow Canons, Rzewski's Winnsboro Cotton Mill Blues, almost anything by Milton Babbitt, Carter's Two Diversions, and both the Picker and the Rakowski Etudes. Also, I have heard intriguing pieces by Vanessa Lann, Gao Ping, and Lona Kozik.
Long and serious is much harder, but extremely important. Scary for the
performer, and, I imagine, perhaps much more so for the composer. Carter's Night Fantasies, Rzewski's De Profundis (and of course The People United Will Never be Defeated) are , to me, masterpieces; De Profundis expands the role of the pianist-performer beyond any other piece I know.
There are many fabulously good pianists playing the music of their friends and acquaintances. That is the best way for me to get to know the music of new composers. When I am working on a brand-new piece, I feel that I have no idea what it will be like until I can play it really well. Not being a composer myself, I want to turn it into something that existed previously, but it's not until the very end when do I eventually find out what this really new piece is like.