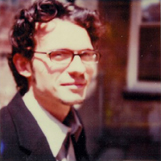 Photo by Luba Halicki
First and foremost, since we are composers after all, the best things that a residency can offer are time to write and performance opportunities. These, and working with particular teachers, are what I look for out of a residency. Simple, yet vital luxuries that are particularly elusive, especially after one has left the warm womb of the parental educational institution. I spent a few summers at a residency in North Carolina (the Brevard Music Center) and the best thing, and what brought me back (aside from the being surrounded by the gorgeous Blue Ridge Mountains), was that I was able write all day and all night. Eat, sleep, and write music, that's what I did…well, I did go to an occasional party. This freedom allowed me to dive deeper into my music and really become transfixed by the process of writing. I got to experience the joy that comes from really letting it all come out without distraction and being able to enter a deeper state of concentration without worrying about silly little things like a job. With that being said, there are numerous types of programs that all offer different benefits, be it working with specific composers with tons of other people or being locked away in a cabin in the middle of the woods, just you and a piano.
In my opinion, residency programs can really work for anyone and should be actively pursued. They are good places to shake up or solidify compositional practices (depending on what one's needs are, I've had both happen), provide opportunities to meet performers that very well could become staunch advocates for your music (it has happened), and supply an environment in which to work with new teachers and composers that one might not get a chance to work with otherwise.
One of the things I love about going to residencies (apart from meeting new people) is that they provide a new environment in which to work. I've had experiences where this change has either been really wonderful compositionally or not. A few years back, I attended a residency at the Atlantic Center for the Arts and I was really excited to work and study with Leslie Bassett, who was the teacher at that time. The ACA is a beautiful place and provides a great environment not only to meet other composers, but artists from all sorts of disciplines. At any given time there could be visual artists, dancers, choreographers, writers, poets, etc. all in residency at once. This creates a wonderful informal atmosphere in which to share ideas and form collaborations. Even though I was in this beautiful environment surrounded by other artists, working with a great teacher, and provided time and space, I found it extremely difficult to write. Very little was coming out. Instead, I ended up soaking in what others were working on, shared what I could, and took in the beautiful surroundings. I got a lot out of being around so many different artists, but as for putting notes down on paper, I didn't get as far as I wanted during this particular residency. On the other hand, being in the mountains of North Carolina was really invigorating and proved very productive, in between my hikes into the mountains. Actually, I am very inspired by nature and if I'm having trouble working something out, a hike into the woods is the best thing for me. I may not have come up with the solution to my problem, but I've at least gotten a few more ideas along the way.