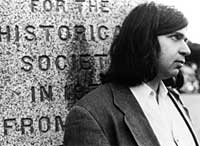 Frank J. Oteri
Photo by Melissa Richard
America is a land of immigrants and the culture of America has been formed and reshaped time and time again by the immigrants whose traditions get introduced here and then morphed into something completely new. When we speak of an "American tradition," it is almost an oxymoron because it is our tradition to be always changing and always growing.
This month, we asked Tania León to serve as the Guest Editor of NewMusicBox. Together we chose the topics for our interactive forums: In The Second Person and Hymn and Fuguing Tune, and together worked out whom we should pose questions to. It all began with our lengthy conversation revolving around what it means to be an American composer. We both found it ironic that composers as diverse as Copland, Villa-Lobos, Tchaikovsky, Takemitsu and William Grant Still get lumped together as "nationalistic" or "ethnic" when at the same time Bach, Beethoven and Brahms, all of whom were highly influenced by German and Austrian folk songs, do not. What do you think? We decided to ask Chen Yi, Judith Lang Zaimont and Howard Mandel what the term "American music" meant to them. A week after our initial meeting at the American Music Center, Tania got all excited about an essay she had just read by British musicologist David Nicholls in the newsletter for the Institute of American Music at the Brooklyn College Conservatory of Music. From the other side of the Atlantic, he was touching on the same issues we were here in New York City. Thanks to Professors Nichols and Ray Allen at Brooklyn College, we are able to share this fascinating essay with readers of NewMusicBox.
To put our whole discussion in context, Sid Whelan has contributed a hyper-history exploring the impact of immigration and emigration on American music. Unlike our previous hyper-histories on composer-led new music ensembles, independent record labels, and the performance of American repertoire at U.S. summer music festivals, this project was much more conceptual. Unlike ensembles, record labels or festivals, which each form stories in and of themselves, each story here is a complex web of inter-relations. As a result, the various pieces of the puzzle form a variety of labyrinthine paths any of which you can choose to follow in order to get the whole story. As an added feature to NewMusicBox, each piece of the puzzle contains two RealAudio sound samples of musical excerpts. These excerpts only begin to scratch the surface of the rich musical tapestry that has resulted from composers coming into and going out of the United States.
We've also embedded RealAudio samples on every page of my discussion with Tania allowing you to get a flavor of ten of her compositions plus a few extras. Once again, SoundTracks features RealAudio samples of all 22 CDs featured in addition to complete tracking information and direct click-throughs for purchase on Amazon. Another 100 concert listings of American repertoire have been added to our Hear&Now calendar providing two months of information about events throughout the United States and abroad. Lastly, we've assembled a variety of news items of interest to the American new music community. Among them is news that a deal has been struck between ASCAP and MP3.com meaning an even greater proliferation of American music, in all its wonderful varieties, across the World Wide Web.