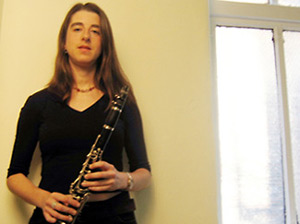 Debra Kreisberg
Coming from a serious background in jazz and classical saxophone, blues, funk, and Latin, I hadn't considered klezmer at all in terms of a genre of music that I wanted to explore. In fact, I came to it sort of skeptically, with preconceptions based on kitschy stereotypes and perhaps a stubborn idea of who I was as a musician. Encouraged by a trusted friend and colleague working in the genre, I heard my first live klezmer performance and was immediately captivated by its mysterious pulse of joy and underlying sadness. As I began to learn klezmer's stylistic requirements, including the deeper exploration of the clarinet's technical demands and range of expression, I found that the music spoke to something deep within me and produced a sort of alchemical combination of musical exploration and curiosity about my own Jewish history and my ancestors' connection to Yiddish culture. This cultural/emotional connection remains a compelling force in my choice to express myself as a musician through klezmer.
In terms of my musical evolution, this has meant the joyful realization that jazz and, more specifically, the blues roots of jazz, are very much linked to klezmer in their soulfulness and improvisational qualities. The common elements of pain, cultural intensity, and even humor find their expression in bent notes, and in the jazz-like, angular progression of melodies. I feel that I can cultivate a home in this music because, though I am a jazz player, I am not a hard-core be-bopper. I can approach traditional Yiddish melodies and ornamentation with the free-blowing mindset of jazz improvisation, even including more complicated linear jazz motion at times, without having to stay there. Part of the fun of getting away from traditional klezmer is coming back—it's a challenge first of all to be true to the source of klezmer and then to find soulful ways of weaving in and out of the tradition.
A piece that I composed for Isle of Klezbos entitled "Abrah," embodies this concept in its interweaving of traditional Yiddish scales with blues/jazz-oriented lines and its use of the klezmer freygish mode as a platform for "outside" collective improvisation in an open solo section. In a total departure from traditional klezmer influences, the piece was actually inspired by some modern Brazilian music I was listening to at the time, although the Brazilian influence is not directly apparent—it was more of a mood that I wanted to reconstruct and tailor to Isle of Klezbos, with all of our individual musical idiosyncrasies and willingness to embrace the unexpected.
I experience the bands I work in, Isle of klezbos and Metropolitan Klezmer, as taking almost a small-jazz-ensemble (sextet and octet) approach to the music, with lots of individual improvised solos and plenty of opportunities to riff on unorthodox stylistic surprises. This is a direct reflection of the eclectic backgrounds of the musicians featured in each group, who bring into the fold influences from straight-ahead jazz to Middle Eastern to reggae, Latin, and opera. Traditional klezmer in its purest form swings really hard, but my experience playing in other styles compels me to hear elements of funk, swing, or even Latin in any given tune, and it's natural and satisfying to bring those out through improvisation, ornamentation, and composition. Perhaps more than any other pure genre, I find that klezmer allows me to have my own voice as a musician, honoring its roots and my heritage, yet incorporating other places I've been and creating my own tradition.