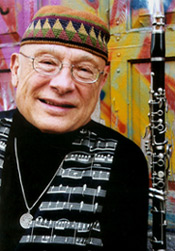 Harold Seletsky
Photo by Hamid
Klezmer music is a world of its own, with no boundaries. Today, there are many attempts to join it or fuse it with different musical idioms: klezmer and jazz, klezmer and gospel, klezmer and Arabic, klezmer and anything. But in my mind, the important mission of Jewish composers is to find ways to advance the nature of the music, similar to the evolution of harmony from Palestrina to Schoenberg, and to sustain the vitality of its individuality.
I have joined klezmer music with many idioms. The most successful ventures have been the following: (1) My Quintet for Klezmer Clarinet and String Quartet in which the strictness of the strings with their advanced harmonies are pitted against the klezmer ornaments, glissandos, and sometimes out-of-tune playing of the clarinet. This allows each group to retain its individual character and vitality, creating a different sound. (2) My attempt to advance the harmonic structure by creating a 24-tone freilach. The klezmer rhythms surrounded by 24-tone themes retains its Jewishness and creates a new sound.
I can envision Jewish popular songs with new harmonic concepts that could be as poignant as the traditional songs. My next venture will be to write a concert work for my klezmer band based on the story of Job. It will be a set of variations gradually changing from serenity with simple harmonies to the most advanced harmonic concepts including atonality and microtonality. My goal is to create popular Jewish songs that embody advanced harmonies and will some day become part of our Jewish heritage.