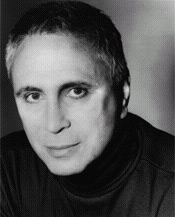 John Corigliano
Photo by Christian Steiner
My First Symphony was written as a very personal farewell to many friends I had lost to AIDS, and one friend whose diagnosis with the disease prompted the writing of the work. While the work has strong personal references in it, it is also an abstract musical statement. Many of the references (such as the epitaphs set to melodies in the last movement) are not specified in any program note, and are noted in the full score only to guide the conductor through my thought process.
Shostakovich's late symphonies often deal with events that surrounded him (Babi Yar, the siege of Leningrad, etc.), but time changes that—and I can think of no better proof of this than the recording session I attended when I was composer-in-residence with the Chicago Symphony Orchestra. Bernstein (a Jew) was leading the CSO in Shostakovich's "Leningrad" Symphony (about the brutal German invasion of that city during World War II) and all this was being recorded by Deutsche Grammophon—Germany's leading classical label—with loving care.
The ironies of that are comforting. I look forward to the time when my symphony, so inspired by its time, will be heard all over as it was some years ago in Kiev (where there was no AIDS, or mention of it) as a tragic symphony—like Tchaikovsky's Sixth.