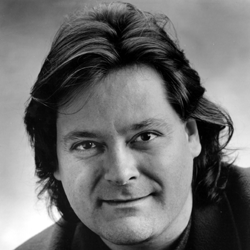 Daron Hagen
Photo courtesy Carl Fischer Inc.
If I could spend one hundred percent of my time composing I would. Now in my twenty-third year of thinking of myself as a composer, I have worked up to being able to spend eighty percent of my time pushing notes around. I'm proud of that.
While I was in conservatory I worked as a music copyist. (Interesting fact: Now that Finale, Score, and Sibelius rule the day, I am a member of the last generation of concert music composers who shall have moonlighted as professional hand music copyists –quill on vellum!– for their mentors and colleagues. Question: how long will the elite Broadway hand copyists be able to hold out?) I still treasure my Local 802 card: hand copying is a deeply honorable profession now gone.
Then, for ten years, the other twenty percent was filled first with a faculty position at Bard, then occasional stints filling in for David Del Tredici at CCNY, then a brief spell on the faculties of the Curtis Institute of Music and Princeton University.
Finally, about three years ago, I took the plunge and quit teaching entirely. That was a scary step. The dreaded other twenty percent is now spent (in descending order): giving composition master classes, pre-concert talks, doing website design (writing HTML), and (when things get really bad, which they do) music proofreading for a cherished ex-student's Broadway copying house. Three years ago, I worked for two weeks as a Coffee Comrade at Starbucks. Last week, I also painted a colleague's office! I do not feel entitled to a career composing music, but I will continue to work at it with all my heart.
What other jobs might I be interested in if I weren't writing music? My second great love is to conduct my own theater music. I have begun stretching my wings in that direction – have just conducted the full-recording of my opera "Bandanna" in Nevada for ARSIS Audio, will conduct Mozart's Cosi Fan Tutte for Ohio Opera Theatre in November and the full-recording of my opera Shining Brow next year. Every time I conduct my own music I learn dozens of incredibly important new things that I write down and bring to the next compositional assignment. I have since high school been extremely comfortable in the pit, both as a conductor and pianist. I adore the theater's ennobling tradition of Communion and delight in the responsibility that a theater conductor has to not just control the flow of the entire production but also to protect and uplift the singers while helping his orchestra to shine. I am thirty-eight years old. By the age of forty-five, I would like to be spending sixty percent of my time composing and forty percent conducting revivals and premieres of my own operas. I can think of no greater honor than to spend the balance of my days balancing these two activities.
If fate tears me away from my first and second loves, I would try to write prose. As a passionate lover of the written word, I have the amateur's enthusiasm for writing fiction. I'd like to think that I would be pretty good at it – certainly, I would enjoy myself for a while. But, as a career? No. Words are in a way too specific; I would always crave music's ability to discuss the all-too-personal in an abstract and curiously universal fashion.