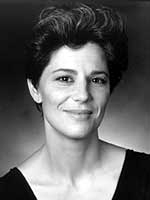 Melinda Wagner
Photo courtesy Theodore Presser Company
In the field of music, if I weren't so busy, I would return to teaching. I'd also really like to coach chamber music or conduct.
Outside of music, I'd really enjoy working in a library, however one that is pre-computer! I love to work with file cards. I would also enjoy making furniture. Of course, I don't know how; but I'd love to learn.
If I had even more time, I'd be an athlete. I used to run long distance but then family and professional obligations just took over. I would run marathons. Of course, I'm running one now, aren't we all!