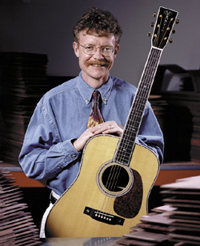 C.F. Martin IV, Chairman & CEO, C. F. Martin & Co.
Photo courtesy C.F. Martin & Co.
Amateur and professional musicians alike depend upon high quality guitar makers like Martin for instruments that will provide the superlative tools of their trades. But beyond that, there is an intangible. Every one of our instruments holds inside it a certain wooden magic, inherited from the trees. Find a talented guitar player and you can be sure that he or she will attest to the tone and inspiration that our instruments lend to the songwriting, recording, and performance process.
My satisfaction comes from knowing that players around the world hold our guitars in very high esteem. My job, as I see it, is to preserve the integrity of our guitars for future generations.