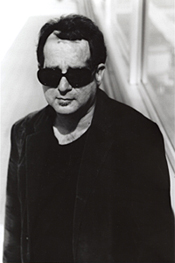 Carl Stone
Photo by David Agasi
I love choral music, ever since the age of two. The first present I remember ever receiving, and one of my best loved, was a recorded collection—of 45 rpm discs no less—of Japanese children's songs, sung by a chorus of elementary school students. Although now much too timeworn to be playable, I still cherish the disc itself fondly and remember the songs.
I love choral music. If I were stranded in the South Pacific, my list of Desert Island discs—well, these days it might be a Desert Island iPod list—would include Spem in Alium by Thomas Tallis, the Bulgarian State Radio & Television Female Vocal Choir, and Ligeti's Lux Aeterna right at the top. There is nothing more expressive than the human voice, and if one voice is beautiful, is not a group of them even more so?
I love choral music but have written none. Why is that? I would welcome the opportunity. Although recent commissions for string quartet, solo piano, and even baroque ensemble belie the fact, as a composer whose output is at least 90% of the time music which I perform myself using computer-based electronics, perhaps I have been type-cast a bit. I would be thrilled if some forward-looking choral director were to ask me for a piece.