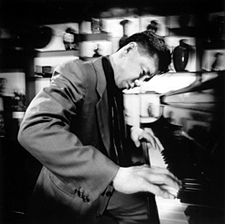 Jon Jang
Photo by Francisco Garcia
During the past 15 years, my instrumental works, as well as my vocal ones, have been inspired by the feeling of sorrow songs particularly from the Chinese and African American traditions. I am also drawn to the feeling of words in poetry that paint provocative images. During this time of crisis and sorrow around the world, I try to listen to the wisdom of Ezekiel ("Can these dry bones live?") and let my faith be my guide.
To be inspired to write more choral works is not the question for me. It is more about being given the opportunity to write more choral works.
Composers Jon Jang and James Newton performed their work, "When Sorrow Turns to Joy – A Musical Tribute to Paul Robeson" at Dartmouth College in New Hampshire and the Flynn Center for Performing Arts in Vermont last January. The work featured a collection of songs sung by bass-baritone singer Cedric Berry and Chinese Opera singer Shuang Hou. Paul Robeson Jr. gave us his blessing at the Dartmouth College concert.