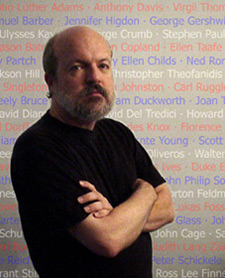 Mark Gresham
Photo by John Noel Wheeler/Graphics by Mark Gresham
One of my ongoing tasks as a contributing writer for Creative Loafing, our edgy alternative weekly newspaper here in Atlanta, is to highlight upcoming classical and alternative classical concerts. In the process of doing that in early October, I came across concert information that jarred an old memory: American Music Week.
What I mean by that is not memory of just any American Music Week, but specifically the national festival that was established by the American Music Center in 1985. "Wow," I thought, "I haven't heard that in years."
Back in the late 1980s, American Music Week was a big deal. Here in Atlanta, where I was involved in promoting the idea and helping make some of the concerts happen, composers and performers were eager to draw attention to what seemed so terribly neglected: New music by living American composers.
But American Music Week somehow disappeared from view, out of sight and out of mind, as we passed into the 1990s.
A decade and a half later, reminded of that celebration, it struck me as odd that, unlike those lean and hungry years, only one institution in metro-Atlanta, Kennesaw State University, seemed to take notice by explicitly listing American Music Week concerts on its calendar. I decided to do an Internet search on "American Music Week." This turned up a few references to a couple of concerts in New York City, but essentially nothing else nationwide. Or worldwide.
That was somewhat annoying. I was already annoyed that the notion of American Music Week had somehow slipped out of my own conscious attention, but more so that few if any organizations appeared to still be holding the fort elsewhere. Even if negligence had taken root locally (and I could think of several reasons why that might have happened), surely the entire U.S. couldn't have forgotten.
The Hunt for American Music Week
My first telephone call was to Dr. Oral Moses, who organized the American Music Week concerts at Kennesaw State University.
Moses, a bass-baritone, teaches voice and music literature, with a special professional emphasis on vocal works of African-American composers. We talked about his plans for American Music Week. I noted that no one else in the Atlanta area seemed to be doing anything, and congratulated him on his efforts. Moses had been organizing concerts of American music during the first week of November for some time, but recently he has operated entirely on his own volition, not receiving assistance or communication on the subject from any national coordinating organization in years.
"We used to get posters, and other such things," says Moses, reflecting on the current situation. Still, he says, these kinds of concerts are important as they offer "unique opportunities to celebrate American music." So he forges ahead anyway. As I listened, I remembered, too, the importance of the American Music Center's posters, which put a national face on the locally organized programs with which I had once been involved in the '80s.
The American Music Center was the last place I'd personally interfaced with American Music Week, so I started digging for bones there. I called the American Music Center, and after a bit of in-house inquiry, the staff, referred me to the Society for American Music (SAM), formerly known as the Sonneck Society. The AMC had turned over management of American Music Week to them at the end of the '80s.
The website of the Society for American Music makes no mention of American Music Week. A call to Mariana Whitmer, the Society's executive director, revealed that indeed, at some point after the Week had been put in the hands of SAM, and before her arrival at the organization, the ball had been dropped somewhere. But she indicated that what I really needed to do was speak with Scott Schwartz, at the University of Illinois at Urbana-Champaign, who was spearheading a significant effort in this regard.
I contacted Schwartz. It was at this point that the trail of American Music Week became even more complicated.
Parallel Universes?
Scott Schwartz is a man with a mission, and he comes by his pedigree as a historian honestly. Previously at the Smithsonian Institution's National Museum of American History, Schwartz is the new Archivist for Music and Fine Arts for the university's Sousa Archives: A Center for American Music. In less than a year, Schwartz has been credited with revitalizing, re-energizing, and refocusing what was previously known as the John Philip Sousa Collection, forging it into its new form—work that was completed October 28, just in time for the 150th anniversary of Sousa's birth on November 6.
The timing of the Sousa sesquicentennial, of course, conveniently coincided with what had been American Music Week—or American Music Month, as Schwartz preferred to say. The significance of that difference in moniker didn't strike me right away, but on reflection it would become an important, telltale clue.
True to Whitmer's suggestion, Schwartz was the right person, as he was in the midst of leading a push for a U.S. Congressional declaration of November as American Music Month. The Senate passed the resolution (S. Res. 459, sponsored by Senators Durban of Illinois and Alexander of Tennessee) unanimously on October 10th, not long before I spoke with Schwartz. As of this writing, a similar resolution is awaiting action by the House of Representatives. (The published Senate resolution only speaks of November 2004, not November in perpetuity, but the latter is much harder to achieve.) Although the Senate resolution had not yet been posted, I was able at the time to obtain a complete copy, thanks to the offices of Senator Zell Miller of Georgia.
On reading, I found greater mystery. Nowhere was there any mention of American Music Center, much less the AMC's creation of American Music Week with the support of a network of corporations, foundations, and the National Endowment for the Arts in the 1980s. Instead a different history of American Music Week was presented, one which harks back to the creation of an American Music Week by the National Federation of Music Clubs (NFMC) in 1924, later changed to American Music Month in 1955—but celebrated in February. According to that history, as it appears in the recent Senate resolution, in 1998 the NFMC changed the month to November, to become effective in 1999, at the behest of what was then still the Sonneck Society.
Scott Schwartz apparently didn't know about the American Music Center's version of American Music Week, which is the one with which I'd had experience. Schwartz rightly pointed out that there had never previously been a Congressional declaration of American Music Month or Week, but wrongly assumed thereby that the AMC's celebration could not have been a national event. Only much later did I learn from Nancy Clarke, AMC's former executive director at the time, that there had been a total of five Presidential proclamations from 1985 until 1989 (under the Reagan and Bush Sr. administrations) declaring a week in early November as American Music Week. These proclamations were all related to the AMC's American Music Week festival. (Clarke recalls the AMC's actual celebrations would sometimes last more than a week, so as to end on November 14th, Aaron Copland's birthday.)
I sensed an underlying difference of historical threads that failed to jive.
At this point, I called Oral Moses again to ask him what organization he had worked with in the past on American Music Week. He said it was the Sonneck Society, of which he is a member and advocate, not the American Music Center.
Oops, I had assumed wrongly when I first spoke with Dr. Moses. We were both talking about different organizations at the time without knowing it! Or, perhaps, he was speaking of a time not long after AMC had already relinquished its role in American Music Week.
At last, I concluded there have been two parallel American Music Week universes. On the one hand, there is the National Federation of Music Clubs' version that morphed into American Music Month. On the other, the more recent but very different incarnation created by the American Music Center, which seems now to have fallen entirely off the historical radar.
Should Anyone Care?
The short answer is, "yes," for both incarnations of American Music Month/Week.
The mission of the Society for American Music is stated this way:
To stimulate the appreciation, performance, creation and study of American music in all its diversity, and the full range of activities and institutions associated with that music. "America" is understood to embrace North America, including Central America and the Caribbean, and aspects of its cultures everywhere in the world.
The American Music Week that I remember specifically celebrated music of the United States, as does the American Music Center—the original mission of the AMC including:
…to foster and encourage the composition of contemporary (American) music and to promote its production, publication, distribution and performance in every way possible throughout the Western Hemisphere.
Both are valid definitions of "American," and both are worthy, non-competitive perspectives in my mind.
True, there are people who become upset by the use of "American" to refer only to the United States rather than to all of the Americas. But that's like telling residents of New York City that they cannot refer to their hometown as "New York" because that name should refer only to the entire state.
We need both perspectives for our American-made music, and it is no crime (though it may seem like one at times) to promote the music of this nation called the United States of America. After all, no one objects to Canada promoting Canadian music, and the Canadian government and Canadian Broadcasting Corporation have long empowered an agenda that guarantees a certain amount of music featured in performance and broadcast must be Canadian. It could be argued that Canada must do so in the face of the overwhelming amount of popular music coming from the United States. But does the historically overwhelming presence of Germanic composers in orchestral repertoire prevent the Goethe Institut from promoting German culture? I think not.
In a sense, this is what's missing due to the absence of the AMC's version of American Music Week: an unashamed celebration of this specific but incredibly diverse nation known as the United States of America as itself. We should do that for ourselves, even as we also rightfully celebrate ourselves as a part of a pan-American culture, and as part of an increasingly global culture. No less than Argentina, Cuba, Venezuela, Peru, Canada, Mexico or Brazil should be able to similarly express their own uniqueness as individual nations while simultaneously part of a pan-American experience.
The political trend to shy away from a "U.S. nationalism" in the arts may be one issue in the general disinterest in an American Music Week, but there are more likely factors.
The most significant factor is that times have changed. Back in the 1980s, getting "American" art music performed was a "cause" due to its scarcity. Today, American music is a larger part of mainstream programming. Some conductors have commented privately that we ought not to have an American Music Week or Month, because it might "ghettoize" American music, providing a convenient time within which to dump American works each year. Instead, they suggest we should make greater efforts to program American music throughout the year so that it becomes part of the mainstream.
I disagree to the extent that offering a special time of recognition of American music does not have to limit it to that time-frame, any more than the music of women or minorities should be limited by making special efforts to celebrate it. For example, the existence of the annual National Black Arts Festival or Black History Month is no reason to avoid programming works by people of African descent at other times of the year. So why not have a special week that celebrates living American composers? Even in the context of an American Music Month, which cuts a far broader swath, let's have an American Music Week (or American Composers' week?) that focuses on presenting and promoting the works of living U.S. composers.
And do we really have to wait for an act of Congress to do so?
The Senate Resolution 459 is admirable, and I support Scott Schwartz in all his valiant efforts to get the Congressional resolutions passed. But such resolutions, according to Senate rules, do not carry the force of law in the same ways as a regular legislative bill. They are only honorific, like "National Hot Dog Month," even if both houses of Congress declare and the President proclaims it. They can, however, act as important catalysts for action.
But I think Dr. Oral Moses has the right idea: If you want to celebrate an American Music Week, then go ahead and do it anyway, even if there is no catalyst beyond one's own heart and soul. What really matters is that the fate of American music ultimately lies with those who write, perform, promote, or listen to music as individuals. Such things work from the ground up, or they die. It's that simple. If there is a national catalyst in place to encourage us, then how and whether we respond to it is what makes all the difference. There really is no other excuse. But if we can make the larger effort to celebrate new American music together as Americans, whether in a specific week, month, or all year long, then we do achieve something special: a time for coming together on common ground where we can share, encourage, and better understand who we have become as a cultural nation.
***
Mark Gresham is an Atlanta-based composer and music journalist. Winner of an ASCAP Deems Taylor Award for an article published in the alternative weekly Creative Loafing, Gresham is a former editor of Chorus! magazine, the author of Choral Converstaions (a collection of interviews), and is the co-author of two method books on how to play the traditional Chinese gu-zheng. His musical compositions are published by Lux Nova Press.