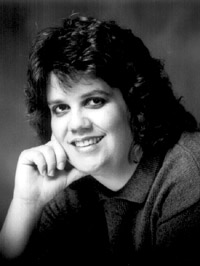 Lori Dobbins
Photo courtesy of G. Schirmer, Inc.
I decided I wanted to be a composer when I was an undergraduate studying music at San Jose State University. At the time, I realized that I was keenly interested in the structure and language(s) of music. However, at the end of my studies there, I knew I was not satisfied with my work and needed to develop a deeper understanding of composition, and of music in general.
I had been accepted into the MFA program at California Institute of the Arts, where I was to study with the great composer, Mel Powell. I decided that if I couldn't make significant progress in developing my compositional skills in my first year at CalArts, I probably didn't have enough talent and would give up composing. Fortunately for me, Mel Powell was an extraordinary teacher who helped me develop a compositional language and introduced me to the masterpieces of Schoenberg, Webern, Berg, Boulez, Babbitt, etc. I was hooked and there was no turning back!
The earliest composition I still acknowledge is a set of six pieces for a capella chorus (SATB) using Elizabethan poetry.