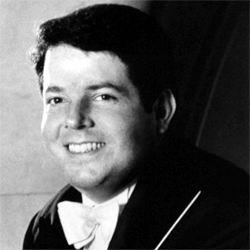 Andrew Litton
Photo by Steven J. Sherman, courtesy Aleba Gartner
I keep my clock radio tuned to Dallas' classical music station, WRR-FM, the oldest radio station in Texas, and occasionally wake up to music that may trigger some programming ideas. At least, that is my excuse for delaying getting out of bed! I mean, one has to lie there listening until they back-announce the piece, right? Anthony McSpadden does a great job on the morning shift, and we at the Dallas Symphony definitely appreciate the support that our classical station gives us. Sometimes I awaken to my own voice when WRR plays one of our ads, which is extremely frightening. That does get me up and out of bed, though.
Dallas is one of those American cities where one needs a car for almost everything. Since I have a CD changer in my car, I do a lot of recreational CD listening instead of turning on the radio. I'm a fanatical record collector and am unable to leave a Tower or Borders without buying a fist full of CD's, so driving is an ideal way to take all this music in.
In the car and at dinnertime with my family, we most often listen to jazz. At home, we either choose DSS digital satellite music or put on one of the 1000 or so jazz CDs we own. Jazz is one of my great loves and inspirations. The sense of natural breathing and phrasing you hear on Ella Fitzgerald's "Songbook" recordings is something I try to put into my music-making. The sense of impeccable ensemble on a Boss Brass album is inspiring and I revel in Oscar Peterson's unsurpassed technique, musicality and sense of time.