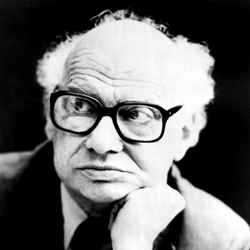 Milton Babbitt
Photo courtesy C.F. Peters Corp.
I turn on the radio every morning and every night. But more often that not, I turn it off and put on a CD because in all the many years of listening to some half-dozen public stations, I have not heard a note of the most influential music of the 20th century. Mainly what I hear are the complete works of Arnold Bax, or Delius, or Gerald Finzi. For example, I have never heard the piano concerti of Stravinsky, Schoenberg, Sessions and Carter. Instead they play Sir Hamilton Harty and Herbert Howells… and the announcers tell us how important and beautiful their music is! These announcers even suppress the names of contemporary composers when they broadcast live concerts. I have documentation of this… It's an outrageous situation.
There was a time when WNYC had a program director named Teresa Sterne, who tried to play significant contemporary music. That didn't last very long. The programs on public radio now are no better than those of a commercial station.
Where I live, we happen to get stations in Philadelphia, New York and a local Mercer County station…. They are the worst. The only time I ever hear something I haven't heard before is on the university stations like WKCR at Columbia, which is the best, and WPRB in Princeton, but they spend limited hours on classical music… It pains me to think of the view of 20th century music and even 19th century music that you get on these self-righteous public stations. It makes me very angry, I confess.