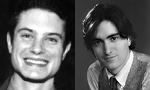 Jefferson Friedman (left) and Mason Bates (right) are the recipients of the 2003-04 Rome Prizes for musical composition
Composers Mason Bates and Jefferson Friedman will be amongst the 31 new recipients of the Rome Prize who will be in residence at the American Academy in Rome starting in September. The winners of the 107th Rome Prize were announced a ceremony and reception hosted by the Academy in New York City last week. The 31 selected artists and scholars are granted fellowships ranging from six months to 2 years. The Samuel Barber Rome Prize Fellowship and the Frederic A. Juilliard/Walter Damrosch Rome Prize fellowships, both for musical composition will bring Bates and Friedman (respectively) to the scenic academy campus, which is an eighteen-building, eleven-acre site atop Rome's highest hill, the Janiculum. The Rome Prize is awarded through an annual, open competition that is juried by leading artists and scholars in the different disciplines. The jury for musical composition this year included John Corigliano, Lee Hyla, Julia Wolfe, and panel chair Robert Beaser.
When he got the call, Friedman was ecstatic about winning the prestigious prize. "It's amazing. It's the one that everyone wants to win. It's the best one out there."
"Because of the award's history, a certain aura hangs around it that makes the Rome Prize unlike any other," Bates agrees. "But the possibility of a new life in Italy bowled me over almost as much as the honor of the award itself."
Bates, who visited Italy briefly a few years ago, has already had a little taste of the culture shock he is in for. "What struck me most—in addition to the fact that Italians were so unhurried as to allow a bus driver to pull over and have a smoke—was the excellent food." During his time in Rome, he will be focusing on what he describes as "the sounds of progressive electronica." The primary project that he will tackle will be an electro-acoustic work commissioned in honor of The Juilliard School's 100th anniversary. In addition to being an accomplished concert composer, Bates also spins lounge electronica in San Francisco clubs and galleries. Will he be taking advantage of the wild Roman nightlife? "While most of the real electronica activity happens up north—Germany and the UK—Rome's huge nightlife does look promising for DJing. Two big obstacles remain: learning enough Italian to get a gig, and moving two 30-pound turntables across the Atlantic. That's in addition to all the vinyl!"
Friedman, who has recently been focusing on developing his orchestral music, is excited to explore chamber music, including a song cycle and a string quartet. "Compositionally, this is going to give me an opportunity to write what I want without having to think about financial obligations. So I can write these pieces that I don't have commissions for and that I can stretch in new directions without feeling constrained in anyway."
And while Bates cites the 11-hour flight that will separate he and his girlfriend as the only downside, he will be in good company. He and Friedman met in 1995 at the Aspen Music Festival and share a great deal in common. They were both students of John Corigliano and hold degrees from Columbia University and The Juilliard School.
And while taking off to live abroad for a year requires putting career and personal life on hold back in the states, Friedman is full of optimism. "It's not exactly stopping my life for a year," he points out. "It's more like taking it to the next level."
In addition to the winners of the Rome Prize, William Bolcom will be at the Academy as the Paul Fromm Composer-in-Residence. Through the residency program, distinguished artists and scholars of any nationality are invited by the director to reside at the Academy for periods of two to four months. Residents serve as senior advisors to the winners and other members of the Academy community. During their stay, residents are expected to offer at least one Academy event, such as a concert, an exhibition or studio visit, a lecture or reading, or an instructional walk in Rome.