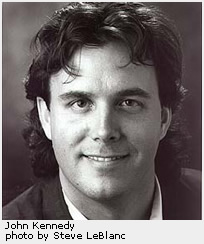 Reading this month's issue, I wonder how many of you, like me, find resonance with elements of the expatriate sensibility, all the while making your home in the United States. Even as resident citizens, I wonder how many of you feel like exiles to dominant cultural currents, to leading lines of political discourse, or to aesthetic trends in music which get the most favor. Perhaps it is possible to feel like an expatriate in one's own homeland, and it may be that this is an extension of our discussion of outsiders in our NewMusicBox issue of April 2002. This is not necessarily a question of patriotism or identity with homeland—what interests me is to what extent people see parallels between living abroad and feeling elsewhere even when "at home."
Maybe I'm confusing the issue of personal core values with the realities of choosing to live in a foreign culture, but I tend to think that for most of us, home is a deep choice that is defined by more than a street address. Certainly, artists in all times and places have had to carve out a relationship with the culture and nation-state around them, especially those who have lacked political freedom. And in the expansive meaning of the word expatriate, there are countless examples of artists who have lived "abroad" from their cultural mainstream. Further, as Peter Garland notes elsewhere in this issue, the notion of "American" is something to consider with awareness and sensitivity; it is something we at the AMC have to be mindful of every day.
The very personal approaches and perspectives revealed in the Hymn & Fuguing Tune section ring true for me even as one who has always made my permanent home in the United States. I have made two big moves in my life, to places in the U.S. which are so singular that to an outsider they are indeed almost foreign lands, and which demonstrate the danger of stereotyping a place called "America." After having what seems, by today's standards, a wonderfully pastoral childhood in Minnesota followed by education in Ohio and Illinois, New York beckoned like a foreign culture. To a midwesterner of my generation, it was indeed "another country" when I moved there in 1984, as exotic and exhilarating as Paris or Rome. As I assimilated the culture of New York and felt the empowerment of gradually becoming a seasoned citizen, at some point it felt like my one and true home. I know this is an experience I share with many others.
After fifteen years, some big life changes, and certain shifts in personal and artistic perspective, it became time to move on. With my family I moved to northern New Mexico, a place of cultural hybrids and profound history, and about as unlike the rest of the U.S. as there is. To be sure, moving to a locale that is quite culturally different from one's previous experience helps clarify one's personal sensibilities. Simultaneously it taps into something that is perhaps instinctive in us all—curiosity and a fascination with the "other," and the resulting joys in connecting on universal levels, feeling at home on planet earth.
Place can mean many things. John Cage said late in his life, "Where I live there are no holidays, weekends, or vacations." From him, this is not the notion of a workaholic, but rather of an artist who in the spirit of R. Buckminster Fuller, sees the world as mind. Cage was perhaps unparalleled in fashioning his own homeland, and would have undoubtedly had a lot to say to us on this issue of identity and what it means to live "abroad."
There is a poem by the writer Ntozake Shange, i live in music, that has been made into a beautiful children's book, one that I read with frequency to my kids. Its introductory lines are perhaps true for all of us, no matter what passports or visas we carry:
i live in music
is this where you live
i live here in music