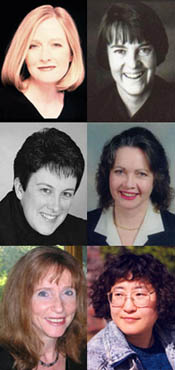 (clockwise from top left) Anne Manson, Libby Larsen, Ellen Taaffe Zwilich, Chen Yi, Shulamit Ran, and Jennifer Higdon
Considering all the hand-wringing that goes on when discussing the hurdles women still face in the music world, it seems especially distressing that The Women's Philharmonic, long an advocate for the careers and music of women composers, will present its final concert in March as part of a state-wide festival promoting women composers and conductor throughout the month.
Guest conductor Anne Manson will take the podium for the Philharmonic's final concert, "The American Women Masters Gala Concert." The program will include world premieres of Ellen Taaffe Zwilich's work Openings and Libby Larsen's Fanfare: Sizzle, the West Coast premiere of Chen Yi's Tu (Burning), and Jennifer Higdon's Fanfare: Ritmico. All four works are the result of the Fanfares commissioning project. The concert also includes Higdon's wissahickon poeTrees and Shulamit Ran's Mirage.
The 25-year-old ensemble has been struggling financially for some years, but reports that it will cease operations with balanced books.
"We are celebrating the end of a chapter, but not the end of the story," said Women's Philharmonic Board President Robyn Bramhall, pointing to the impact the ensemble has in boosting the profile of women within the American orchestral industry.
In order to continue that legacy, the Philharmonic is reportedly in conversation with the American Symphony Orchestra League about the transferring of its National Women's Conductor Initiative to the League.
"When we started The Women's Philharmonic, we could never have imagined the impact of our work in just twenty years' time," admits Miriam Abrams, one of the orchestra's three founders, "that not one, but several women have won the Pulitzer Prize for music; that women conductors, including our own founding Music Director, would be conducting major symphony orchestras; and that women musicians would serve as first chairs in orchestras throughout the country."
Their hope now, they say, is that the legacy of music of The Women's Philharmonic, including its recordings and library of scores it commissioned, discovered and promoted, will live on in the repertoire of orchestras in America and around the globe.