Nora's recent post about different forms of notation reminded me of my own paper and notebook obsession, and about how amazing it is to see the handwritten manuscript and/or notes of different composers and other artists as well. Many of us will spend hours in museum exhibits and pouring through books that include excerpts from scores in progress or an artist's personal notebooks. Memorable ones for me have been exhibits of John Cage and James Joyce, and a beautiful book about Brian Eno (which sadly I no longer have) filled with handwritten notes and lists. I nearly fainted when Bunita Marcus pulled out her early edition score of Debussy's Prelude to The Afternoon of a Faun, scattered with red penned notes and markings by the composer! It's a bit like being a fly on the wall for some little part of another person's creative process—notes of any sort provide a glimpse into another personality.
In addition to things musical, I hugely enjoy photography, and gravitate strongly towards camera geekery (as much as possible on a limited budget!). Although taking pictures of all sorts of things is wonderful, music-related photos are especially fun—for instance, snapping photos before a performance clears my head nicely, so I have learned to always pack my trusty Nikon D50. There is also a post-martini ritual that involves scattering assorted notes and pages from the compositional working process and capturing a bit of that: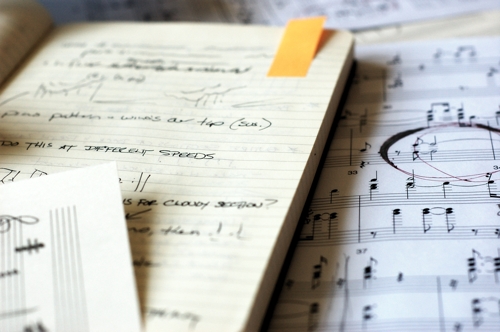 A few notes and sketches from Now or Never for flute, clarinet, electric guitar, double bass and piano. View on Flickr.
That is from the most recent project—kinda messy! Those computer-printed pages are what Digital Performer spits out from a random improvisation session. Crazy! But I like to print out the recorded improvisations and listen back, marking passages that might be worked into the piece.
This is a slightly more formal arrangement from a couple of years ago:
And we mustn't forget the electronic music!
Capturing photographic images of a working process helps to remind me how different pieces progressed and how the ideas rolled along—those little sketches and lists were crucial in the moment (because if it doesn't get written down, it will be gone) and a simple image can bring it all back. During production time I keep the bits of paper and notes to myself, but once the work is done, it's kind of neat to document the tiny sparks that brought the music to life.
I know there are more composer/musician photography enthusiasts out there (ahem!), so come on over, or post a link in the comment section so we can all have a peek!