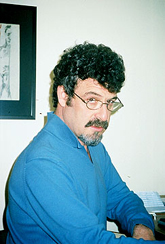 Tobias Picker
Photo by Benjamin Seaman
Even thirty years ago when "uptown music" was in vogue, tonality was the elephant in the room. It was always titillating to listen to a new, 12-tone piece and discover the inevitable hints of tonality tucked away or skirted by in little corners and interstices.
No. Tonality never went away. You can't avoid tonality unless it is still there to avoid. For me it is not a question of either or. What interests me is the space between where functional tonality ends and something else begins.There is a lot of tension and drama in that place. And that is where I live.
Neo-romantic? The term has always implied that romanticism went away and then came back. That would be like some spell descending upon the world causing people to stop falling in love. I don't think that ever happened.