Gauging the success of an artist residency can be tricky, but my activities over the past two months in Norway exceeded even my most ambitious expectations. Reflecting back on this amazing time in Oslo, I have come up with a few ideas that I think help make an extended artist residency a success.
Completed Project
My experiments with a sensor-augmented saxophone were realized during my final week at NOTAM. It amazes me how much work was completed in those two short months. The technical knowledge and problem solving techniques from Hans Wilmers combined with the amazing community of artists at NOTAM provided the support I needed. We successfully outfitted the six main keys of my alto saxophone with pressure sensitive sensors and attached a module to the bell of the saxophone to wirelessly track motion, acceleration, and direction in three-dimensional space. This new interface is easily transferable to any other member of the saxophone family. After adding a clip-on microphone to the bell for audio input, I am just beginning to tap into the possibilities of this new instrument.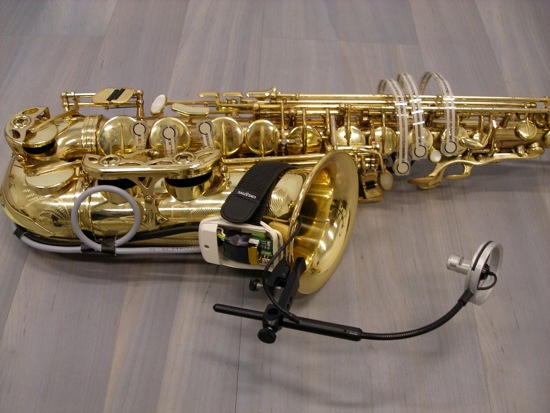 The yet to be named sensor-augmented alto saxophone
Presentation of Work
During my last night in town I performed a solo show at the multimedia performance bar Sound of Mu. The program included a series of works for saxophones, electronics, and film, in addition to the premiere of my new piece About Place—Oslo Mix for sensor-augmented saxophone, environmental sounds, and live electronics. Presenting these past and current collaborations in a live concert, with a great crowd in attendance, was the perfect bookend to my residency.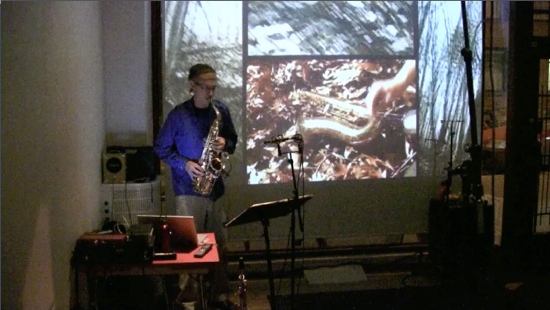 Performing Matthew Burtner's (dis)Locations for alto saxophone, electronics and video at Oslo's Sound of Mu
Community
I was very fortunate to meet several amazing people during my time in Norway. Rob Waring, a composer and percussionist from New York City who has been living in Oslo for nearly thirty years, helped me navigate the local new music scene. I also connected with fellow American-Scandinavian Foundation grantee and composer Brendan Faegre, who is writing a piece for me and local quartertone marimbist Kjell Tore. In addition, the entire crew at NOTAM (Hans, Notto, Cato, Jøran, and all the others) provided me with a very supportive home away from home.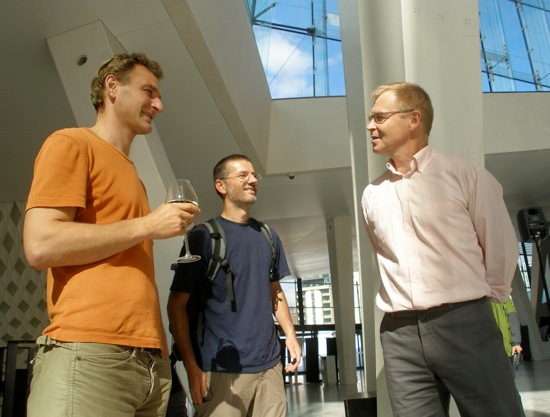 NOTAM's Cato Langnes, Hans Wilmers and Jøran Rudi at the opening of a local sound installation
Renewed Energy Attending the Ultima Contemporary Music Festival, visiting the graves of Edvard Munch and Henrik Ibsen, consuming too much Norwegian salmon, and taking twenty-kilometer hikes in Oslomarka helped me to come out of this experience with even more focus and energy. At this point in my artistic career, I tend to choose risk over stability. Pushing past my comfort zone and living in yet another new country has allowed me to make significant artistic leaps.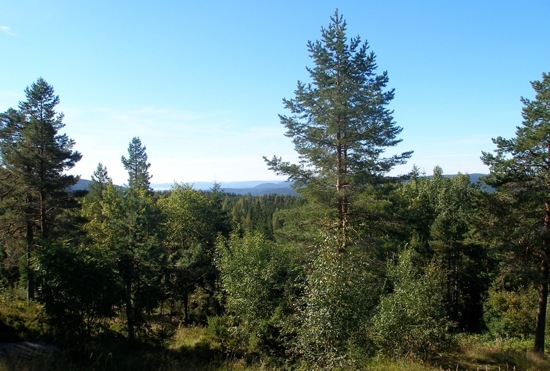 Hiking a portion of over 1,000 KM of trails in Oslomarka
Return Trip
I have already plotted a return trip to Oslo during the last two weeks of May 2011. Until then, I will be working on a series of pieces for my sensor-augmented saxophone with hopes to perform them at NIME (New Interfaces for Musical Expression) in Oslo during this time. I will also premiere Brendan Faegre's new piece for soprano saxophone, alto saxophone (one player), and quartertone marimba at the Norwegian Academy of Music alongside a cycle of electroacoustic works by composer Peter V. Swendsen based around the drastic seasonal shifts in Norway. Finally, ditching the saxophones, I plan to explore Norway outside of Oslo and head north for my first trip to the Arctic Circle.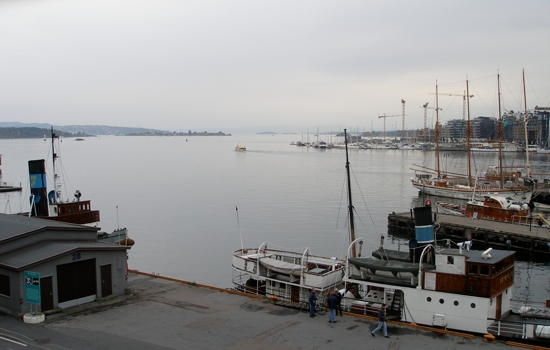 A farewell view from Oslo's Akershus Fortress