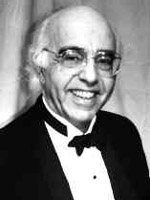 Yehudi Wyner
photo by Susan Davenny Wyner
Associated Music Publishers, Inc. has announced the signing of Yehudi Wyner to an exclusive five-year agreement in which the company will represent the music formerly self-published by Wyner.
"It's been a long exile, but I feel I'm coming home," said Wyner after his 10-year absence from Associated Music Publishers. "[Schirmer/AMP has] participated in the evolution of a thriving enterprise. . .supported above all by faith and vision and by the clearheaded belief that business and quality are not irreconcilable antagonists."
Schirmer/AMP vice president Susan Feder observes, "Yehudi Wyner possesses a rare gift of compelling, expressive, immediate, individual musicianship. We welcome him home and are delighted once again to have the opportunity to bring music of such quality to a place of wider recognition and appreciation."
With his return, Wyner brings a diverse catalog of works for orchestra, chamber ensemble, chorus, voice, solo instrumental works, liturgical settings, as well as music for klezmer ensemble.
For more information, click here.