FRANK J. OTERI: One thing we haven't touched on yet is amplification. It certainly was a factor in the negative experiences I've had at Carnegie Hall—I don't think amplification works there. There are a lot of attitudes among performers, among listeners, among composers, among music critics that amplification is the great evil. Amplification is wrong. And I thought it would be interesting to address that in terms of can you have a hall that works for unamplified music and amplified music both? Is that possible?
RUSSELL JOHNSON: Yes, you incorporate in the design a tremendous amount of physical adjustability. And then you can get very, very good results for certain kinds of music without amplification and where the performer needs amplification and wants amplification and demands amplification you can adjust the room to work with amplified sounds.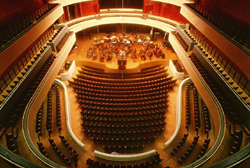 The interior of Sibelius Symphony Hall, Lahti, Finland
Photo courtesy ARTEC
COLETTE DOMINGUES: I agree, yeah.
FRANK J. OTERI: Now clearly both of you present music that features amplification, so you don't think amplification is evil.
LIMOR TOMER: Well, it seems to me that amplification doesn't work in the traditional, large opera house size venues like Carnegie Hall, the BAM Opera House, or Avery Fisher Hall. It doesn't seem to work, probably because it wasn't designed to work.
RUSSELL JOHNSON: Yeah, BAM isn't what we call fixed acoustics. Fixed environment. Carnegie Hall is a fixed environment; Avery Fisher Hall is a fixed environment. The halls we've done in the last 20 years, essentially we never use the fixed environment approach. Our hall, our concert halls in Dallas, Calgary, Edmonton, Birmingham, England, Lucerne, Lahti, Finland, uh, everyone of those halls has a tremendous range of adjustability which is why some evenings you can get the amplification working very well in a room.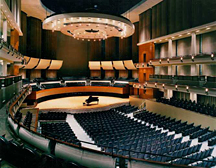 Concert Hall of the Winspear Centre for Music, Edmonton, Alberta
Photo courtesy ARTEC
FRANK J. OTERI: I think we're really spoiled in New York City. We've got halls that have really specific audiences and specific targets, but all around the country you'll have a hall that one night is being used for a symphony orchestra concert, the next night it's going to be used for Garth Brooks when he comes to town that night, and the next week it will be a touring Broadway show that will be there and every one of these scenarios requires a very, very different acoustic environment. And I always find it interesting what happens with chamber music, because chamber music is most poorly served by most of the halls that we're currently in, because you can't really build a hall that's only for chamber music because it's economically unfeasible.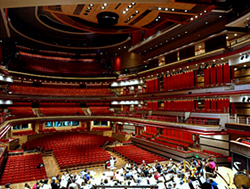 The interior of Symphony Hall, Birmingham, England
Photo courtesy Russell Johnson
RUSSELL JOHNSON: No, that's wrong. That's absolutely wrong. What's happening is in the 1920s, practically every community in North America built one room and the concept was that each community could only raise enough money for one room. Therefore, everything had to happen in that one room. Communities today have learned that that is not the way to go. So, in most of the communities where we're working, the building owners are building four rooms or five rooms in a center—even in relatively small communities. In Kansas City, the building owner, which is a foundation, the building owner is projecting a pure concert hall and next to it a pure opera house and next to it a pure drama hall and in between the two a very small recital hall and then also down the hill, just a few feet a very small experimental room for contemporary dance. And this is the new pattern. In 1925, it was certainly not what was being done, but in the next 10, 20, 30 years this is going to be the construction and design pattern in North America and it's well on it's way.
COLETTE DOMINGUES: Well, I hope the recession doesn't affect those plans. Those are beautiful plans.
RUSSELL JOHNSON: This foundation, this particular foundation has its money invested in the right places.
COLETTE DOMINGUES: Good, good.