The Mentor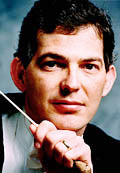 Tim Weiss
Frank J. Oteri: What is it about Oberlin that turns all of these young people on to being new music junkies and evangelists?
Tim Weiss: I think they all find that they have more opportunities for creative imagination—that they can reinvent themselves musically and artistically through new music. It gives them a chance to take chances that they weren't able to find in more traditional music. For example, I think traditionally in an orchestra you play what you're told, you play when you're told, and you play how you're told. And in new music ensembles, especially these particular two new music ensembles [eighth blackbird and ICE], they play the music they want to play, they play it in the venues they want, they present it to audiences in new, interesting ways that they create, and they play it the way they want to play it. What's interesting about both of these groups is that they have very different identities. They're both immensely successful, but they're entirely different. That's because they have made that identity for themselves. I think that's what's unique about it and what's really wonderful about it.
In the case of eighth blackbird, most of the material they play is now memorized, and there is an extremely strong performance aspect about it in every realm: the way that they come on stage; the way that their works are almost choreographed in a certain way. It's wonderful. It's a beautiful presentation. In the case of ICE, they're constantly looking for very interesting connections between the pieces, the type of repertoire they're exploring to make connections with young composers.
FJO: Both of these groups started at Oberlin. How did all of that happen?
TW: I feel like a very proud father in a sort of way—I don't want any credit for what they have created. But yes, they all came through Oberlin and they played in the Contemporary Music Ensemble.
In the case of eighth blackbird, I actually pulled them out of the ensemble to create a Pierrot sextet in part because I wanted a laboratory to work on that kind of repertoire and to work more intensively with six students. But that's all I did. They are the ones that took it to the next step. I remember the very first piece that we worked on—gosh, it must have been the fall of 1993—was Wuorinen's New York Notes. We worked on that, my goodness, forever. I think we also tackled the five-minute Petroushskates by Joan Tower. But then in winter term we started work on Donald Martino's Notturno, and we worked on that the whole semester. We rehearsed Tuesdays and Thursdays at 8 a.m. This was before cell phones, so when one of them stayed up too late writing a paper, I actually had to get on the land-based phone and call them, which didn't happen too often but, you know, occasionally. Today when that happens you just get on the cell phones and call. But the problem was that they wanted to rehearse more than what I was able to give to it, having responsibilities to my other classes and having young kids. There was a rehearsal—Molly Barth tells this story very well—where I couldn't show up, so they rehearsed without me, and they realized that in fact they didn't need me at all. They knew the music so well it just went seamlessly. They also wanted to enter competitions, which they could not do with a conductor. So they sort of launched into being their own group, and I sort of took the position of coach and went along for the ride. They won the Fischoff and Coleman, I believe, that year, and then went on to win the Concert Artists Guild and went to grad school together.
I think part of their success is the chemistry—finding the right six people—and the other part of it is the sacrifices they've made for each other and for the music. Because all of them could have gone their own ways and had successful careers on their own instruments, but along the way they've had to make noble sacrifices to stay together as a group, to make the group the most important thing for themselves musically. And that they did entirely on their own.
In the case of ICE, they all played in the Contemporary Music Ensemble, but I think the genesis of that was that Claire Chase got the Presser Award at Oberlin, which is basically for an entrepreneurial project. And she wanted to commission four composers and give a concert of premieres. And through the experience of winning that grant money and creating a relationship with four composers—I think two of them were young and up-and-coming and two of them were very well established—she was able to have this global experience of pulling together musicians, her friends in this case, and making a relationship with composers, commissioning them for pieces, dealing with all the work involved with commissioning, the paperwork, the contract, the communication, the follow-through in getting the music on time, preparing the music, and then launching the press kit and getting people from the Cleveland area to come to the concert. And I think this gave her this idea that this is fantastic, being involved in every aspect of the artistic whole.
I think from that, this group that she had amassed, went on to be ICE. And her vision was a group that would ultimately be flexible, it wouldn't require this complete sacrifice of oneself to be part of one thing. It would be a core group that would be driven by its programmatic creativity, so depending on what kind of things they wanted to work on, they could expand or contract. Since then, they've done opera, and they've done chamber music in Mexico. They have two home bases: in Chicago and New York. They're doing fantastic things.
FJO: Conrad Cummings said to me the other day that Oberlin got started as a missionary school. He said, "Maybe you'll find that this idea of missionary zeal infuses everything that happens at Oberlin and connects to everybody who winds up being a student there." Do you think that's true, and how has that played out with eighth blackbird and ICE?
TW: I'm not sure if I see myself as a missionary, but I do feel that there's great satisfaction in introducing them to something that is so alive in music that they haven't yet seen before or had experience with. And it's a little bit like they've played in the sandbox before, but they've never been to the beach. All of a sudden, for the first time, they're seeing this whole world of sand, and the great thing is that no one's played in it before. That's their perspective. In some ways it can be daunting to be creative with music that has been performed so many times. You're almost afraid to take too many chances, to be overly creative. With new music, since in many cases it hasn't been done, you feel responsible for making important creative decisions. Whereas in some cases with old music, you feel the text is overused and it's difficult to make those creative decisions or that you're not qualified. So I think that's one of the things for these students: that it's a fresh text, and it demands to be interpreted.
FJO: So are there other eighth blackbirds and ICEs that are happening right now in your classes?
TW: Yes there are. Some students have said to me, upon graduating, "What are you going to do? We're all graduating. You're not going to have any more fantastic students." But there have been so many. It goes on forever. The thing is that every year there is a crop, a generation, of new students who are interested in new music or who want to take that place. Or what happens is that as they come in and they see all these other students who are doing these amazing, wonderful things. Like this year, we just did Lost Highway at Miller Theatre. So right now, I've got all these students saying, "Wow. I want to do that." So there's another generation coming through that wants to be part of this machine. Now they're not all going to make this immense sacrifice to make their mark exclusively in new music the way that ICE and eighth blackbird have, but, yes, there's always an eighth blackbird at Oberlin. There's always an ICE at Oberlin. It just depends on what the next two years are going to be. Right now there is a group called Echoing. And it's a wonderful group. They just finished playing Donatoni's Arpège without conductor, a project that they worked on for 12 weeks intensively. They're going to go to the Kennedy Center to play Arpège. And they're going to launch onto a Xenakis piece, and they commissioned four composers not unlike ICE did. So this is a group that actually has its own identity here right now, but I'm not sure if they're going to have a future past this year. I mean, one will probably go to UCSD; one will go to France. It just depends on what happens in their own horizons.
FJO: Do you think there's something different about going through the whole experience, the musical training experience, at a place like Oberlin versus a more traditional conservatory like Juilliard or Peabody? I mean, the fact that Oberlin Conservatory coexists with a liberal arts college?
TW: Absolutely. I think there are a lot of advantages. One advantage is that we're isolated. It's an advantage and a disadvantage. One advantage is that there are only undergraduates, and the reason I think this is an advantage is that at a school like Juilliard or other schools you might name that have a very strong or large population of graduate students is that those students, by their nature, tend to be somewhat more vocationally minded. They are understandably worried about their next step as musicians: How are they going to enter the industry? How are they going to make a living? And because of that, that can trickle down. The nice thing at Oberlin is that they are immensely talented, but they're not really concerned about their future. They might be a little bit, but it's not what occupies their thoughts. They are thinking about music as an art form. They're preoccupied with how they're going to change the artistic culture. And I think that's actually very important. What effect would Haydn have had on the string quartet if he were not at Esterházy? What if he had been a freelance musician in an urban environment? Would he have had time to focus on recreating or redirecting a medium? I'm not sure. So for me, this is one of the real significant issues. In eighth blackbird, I don't remember how many exactly, but I think there were three double-degree students, if I remember correctly. Matt Albert with a double degree in English, he was the one who came up with the name of the group from the poem. I think that Lisa Kaplan might have been art history, but I don't remember. Even if they weren't double-degree students, they were all actively engaged in academic work in the college, which I think balanced and fueled their lives as artists. Taking an art history class or taking an aesthetics class adds to their identities as musicians, and I think that's very important.