Connecting to Audiences
Frank J. Oteri: So there's no eighth blackbird sound.
Matt Albert: I don't think so. I think there's an eighth blackbird way. Yeah, like a way that we approach things, and a way that we do things.
Lisa Kaplan: We have our own sound in terms of how we sound as a group. We have a group sound, but I don't think necessarily we have one style that we're gravitating towards.
MA: I hope not.
Tim Munro: There are pieces that you have said that you refuse to play. We'll probably never play the Elliott Carter Triple Duo because there aren't enough people in the group who actually like the piece.
FJO: That's too bad. I've actually thought to myself that I'd love to hear you guys do it because I think you might do it even better than anyone else who has ever done it.
LK: That's not to say we'll never do it. I think I've always said: "God, that piece will take so much time to do really well, and I don't want to focus my energy on doing that right now." But maybe I would some other time.
FJO: His centenary's coming up.
LK: Yeah, that is true.
FJO: One last area to get into with all of you, and that's communicating with an audience. You brought up the importance of not being buried in your score and interacting with the audience. You stand up which is kind of unusual.
TM: He doesn't. [points to cellist Nicholas Photinos]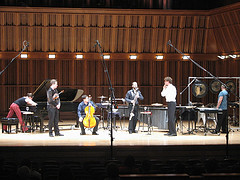 Stand and Deliver: eighth blackbird in concert
Photo courtesy eighth blackbird
FJO: Well yeah, that might not be a good idea. You might know that Woody Allen routine where he plays the cello in a marching band. And, of course, Lisa doesn't really stand up either, although you were inside the piano.
LK: Yeah, when I need to get in there, I can.
FJO: You were saying before that you'll play a piece if you're contractually obligated to play it even if you don't like it. If you don't like something, how are you going to make an audience like it? How do you make the audience like this stuff?
Matthew Duvall: The first thing that popped into my head is that there's a very conscious difference. I know when I don't like a piece, I have to find a way to sell it for those three concerts. And when I do, I don't have to make that effort.
Nicholas Photinos: I really feel like my opinion of the piece and my performance of the piece should be completely separate. Whatever I'm playing at the moment is the most important thing, and I'm going to do my best to be convincing about whatever ethos is in that piece. That's what I'm going to try to give to you to the best of my ability.
LK: I can't say that I've ever hated any piece. I still enjoy playing lots of parts of pieces I like less than others. Maybe I just have problems with how the piece works as a whole. I agree with Nick that your opinion is very separate from how you're performing it.
MD: There are certain circumstances where you're obligated and you have to find the best that you can find in it and communicate that. But we are fortunate to be able to choose what we play and everything that's on this concert is exciting, and I'm really excited about it.
MA: It helps to remember that we have great jobs. This is a great thing to be doing. We're really lucky, and if occasionally we have to get up there and play the piece that's not the best piece you've ever played, there are a lot of other worse things you could be doing.
NP: Like versus an orchestra player. I play a lot more pieces that I enjoy playing.
FJO: But what is selling a piece. Is it memorizing it? Is it standing up? What do you do to sell a piece?
NP: Get inspired.
MD: Get excited.
LK: Know how it goes backwards and forwards. Not just being immersed in your score and not paying attention to what's going on around you; being aware that you're part of six and not just one playing with five other people.
Michael Maccaferri: The hardest part is the audience picks up on that energy. It's very hard not to like something when somebody's having such a good time with it.
LK: That's true. We've all seen the guys sitting in the back of the violins at whatever symphony orchestra concert like they've been playing for a thousand years. This is not to say that they don't like what they're doing or that they're not good players. But it's not the kind of energy that sells the piece. I feel like we're always aware of that.