An Amorphous Ensemble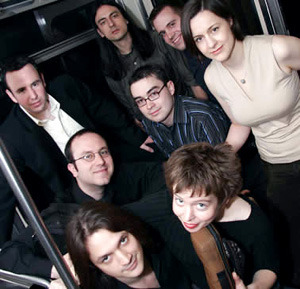 Some of the Members of the International Contemporary Ensemble
Frank J. Oteri: I've been following your activities since almost the beginning. But at the same time I've kept up with you, to be honest, I've never been able to quite figure out what ICE is exactly. I've never been exactly sure who is in the ensemble; it's always felt sort of amorphous. Plus you're based both in New York and in Chicago. What's behind this whole ICE operation?
David Bowlin: Claire's behind this whole ICE operation.
Claire Chase: The basic idea of the group is that we're a collective. We have a core group of about fifteen musicians who have been with the group since the beginning. And we expand to be as large as thirty. And generally our projects range from between four and ten players per concert. A couple times a season we get the whole band together to do something really big or to collaborate on a festival. As far as location goes, we split our time pretty much 50-50 between Chicago and New York. That's been the idea from the beginning of the group. We're also entertaining the idea of setting up a west coast chapter. San Francisco is our hope for a third location—probably in the 2009-2010 season—with the idea that we'd then be splitting our time three ways in three major American cities.
FJO: You call yourself International Contemporary Ensemble, but all those locations are in the USA.
CC: We do a lot of American music, but we also do a lot of music from other countries. Not just European music, but a lot of music from Asia and Latin America. We're also getting interested in stuff from Africa and from other parts of the world. There just aren't that many opportunities for us to play this music. We program, curate, and play it here in this country and cultivate a new following for it and try to drum up support in our generation for new work that's taking place all over the world.
FJO: When you're dividing time between cities, does that means all of you?
CC: No.
FJO: How modular is the structure?
David Schotzko: It depends on the situation. It can be extremely modular. We have yet to actually perform two concerts at the same time.
CC: But we're working on it.
DS: We've been close and we've plotted that in the past and it just hasn't come up. We could feasibly do that and have one ICE group be as official as the other ICE group.
FJO: So none of you has to be in every piece.
DS: No.
CC: It's a repertoire-driven group. So, for instance, we have done a concert of all solo music in New York. We did the first performance of all fourteen Sequenzas by Berio. And we can be a chamber orchestra. We can be a string quartet. We can be a Pierrot sextet. We can be a string octet. We can be two trumpets, a viola, and a harmonica. We can be anything we feel like being based on the repertoire that we've chosen. So it's kind of fun because we can make artistic decisions, and they don't necessarily have to be personnel-related. We can just say we love the idea of this program, and we're going to find the personnel to make it happen.
FJO: What makes it ICE versus not being ICE? Who are the core members? Do you even think in terms of core members?
DS: Sort of. We always say core membership, but it's not that any one member has less clout than any other member. It's actually more due to repertoire than anything else and due to concert opportunities. There is sort of a group of instruments that gets to play more than other groups of instruments: most always violin and almost always piano and flute; there's a lot of percussion, but not always. Our poor saxophonist doesn't get to play quite as much.
CC: But that's something that we're working on also. We've done a lot of the standard 20th-century repertoire; mixed instrumentation happens to be the bulk of it, Pierrot plus percussion. It's a wonderful combination. We're definitely interested in expanding that and changing it and commissioning new works for many other genres of music that hopefully will be defined as 21st-century rather than 20th-century ensembles. What we call the core are the most standard instruments that end up playing on the majority of ICE concerts, which is up to about 60 concerts a year at this point. But we're definitely moving in the direction of creating repertoire so that everyone in the group can play the same number of concerts each year. And ideally—we're talking probably five, six years from now—we'll have a hundred-concert season. And everyone will take part in that, whether it's 20 or 40 percent depending on schedules, availability, and also the needs of the repertoire of the programs.
FJO: When you say core members, is it all of you?
CC: We're just a sampling. We're a random representation of people who happen to not have a gig this afternoon.
Joshua Rubin: Actually, we've got a good part of the month off. A lot of us have projects going on and other things in our lives. We're kind of regrouping and learning new repertoire. This is a little bit of down time for us, and maybe the only month that we've had recently that's been sort of quiet.
DS: Nothing came up and we kept it that way, but January and February were very busy for us.
FJO: How important is ICE in terms of your overall activity as a musician?
Peter Evans: I just joined three weeks ago. I was sort of an adjunct member for the past year or so. So I'm not really sure how to answer because I just became a real member and I also need to figure out a way to fit the stuff that I do outside of this into this. If that's what they're interested in having me do so—well, I'll find out.
CC: We kidnapped Peter very recently. He's our newest member.
DB: I'll talk about it a little. ICE has been a very crucial part of my musical life. For me contemporary music has become something that I'm very passionate about and very interested in. I'm somebody who likes to play both traditional and new repertoire; I like to balance both. But I think my relationship with the group has really fostered a real interest on my part that may not have existed had I not joined the group. I'm developing a very strong interest and concern about contemporary music and a real love for it. So in that sense, ICE plays a really big part of my musical life.