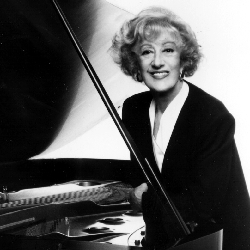 Marian McPartland
Photo by Barbara Bordnick, courtesy of Marian McPartland
Watching the Grammys, I was pleased to see Diana Krall. The fact that they actually had a real jazz performer at the Grammys was encouraging. I was amazed that she actually got to play something. It's about bloody time!
There's a great deal of jazz being taught in colleges now. Years ago, we had to learn by doing. A lot of kids come out of these school bands and become professional.
I see jazz as really coming into its own in the past few years. There are so many kinds of jazz being played today. People are writing new music, but I still revere the standards. Some people don't know what standards are… Cole Porter, Jerome Kern, Harold Arlen, Irving Berlin, Duke Ellington, Alec Wilder…
I've talked to a lot of the young musicians about writing new music. They say we can't keep repeating the old standards, but I haven't heard anything that really is amazing either as a new standard tune or a jazz tune. To me, they lack a real melodic quality. People don't seem to write melodies anymore; they just write clever things with chords. Maybe it's just society today, the year 2000… I can't think of playing music and not including something by Dizzy Gillespie or Thelonious Monk or Wayne Shorter. But I think rock and rap will burn themselves out, although it doesn't seem to be happening yet.
In concerts I have played recently, I have noticed that there are a lot more young people in the audience than there used to be, and as a result of hosting Piano Jazz for over 21 years on NPR, I have learned a lot more about people of all ages who are discovering this music and who get in touch with us through letters, email, etc. It's very heartwarming to know that people of all walks of life care about this music.