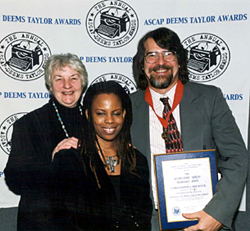 Frances Richard, Regina Carter, Chris Brubeck
Photo courtesy ASCAP
On December 4, the American Society of Composers, Authors, and Publishers (ASCAP) announced the winners of the 35th Annual ASCAP Deems Taylor Awards at a ceremony that took place at Lincoln Center. The awards, established in 1968 in memory of former ASCAP president, composer, and writer Deems Taylor, encourage excellence in print, broadcast, and new media coverage of music. ASCAP President and Chairman Marilyn Bergman hosted the event, describing the program as "a way of thanking all of those who enrich and educate us about this music." Winners receive an ASCAP Deems Taylor Award plaque as well as a cash prize.
This year's ceremony was dedicated to the memory of former Billboard editor and distinguished music journalist Timothy White, who died on June 27, 2002, at the age of 50. The author of acclaimed biographies on Bob Marley, the Beach Boys, and James Taylor, White's legacy was commemorated with the first-ever Timothy White Award for Musical Biography, which went to Seattle-based author Charles R. Cross for his biography of grunge rock icon Kurt Cobain titled Heavier than Heavy: A Biography of the Life of Kurt Cobain.
Other highlights included a spirited performance by Lubavitcher duo Sruli and Lisa, who encouraged the audience to sing along even if they didn't know the tune or words. "It never stopped a Hasid from singing," they joked. The performance was inspired by Ellen Koskoff's winning ethnography Music in Lubavitcher Life. In addition, jazz pianist Cyrus Chestnut equated the emotional and spiritual power of words with notes of music before he began a moving performance complementing the award given to Geoffrey Himes for his award-winning profile of the pianist for the Baltimore City Paper.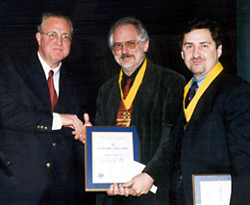 Paul Moravec, Kyle Gann, Richard Kessler
Photo courtesy ASCAP
This year's awards also marked an important leap forward for music journalism on the Internet. Susan Elliott, editor of musicalamerica.com, accepted the 4th annual ASCAP Deems Taylor Internet Award and three awards were given to articles that appeared only in electronic format. Eric Boehlert and salon.com won for an 18-part exploration of how radio and independent promoters control what music we hear. NewMusicBox, the Web magazine of the American Music Center, took home two awards, one for Greg Sandow's column about kitsch in music and a second for Kyle Gann's HyperHistory of American minimalism. All three authors were grateful to the opportunity the Internet provided writers to conceptualize articles that would never work within the space limitations of print publications. Kyle Gann humorously thanked Al Gore "for inventing the Internet" and more seriously thanked the Internet for "giving journalism back the prospect of unlimited space that we lost during the 1990s."
The event concluded with clips from the Radio Broadcast Award winner Fresh Air with host Terry Gross talking to Branford Marsalis and Television Broadcast Award winner Evening at the Pops: Fiddlers Three, a Boston Pops telecast, which was centered around the premiere of Chris Brubeck's Interplay for three violinists: classical soloist Nadja Salerno-Sonnenberg, jazz violinist Regina Carter, and Irish fiddler Eileen Ivers.
The complete list of winners:
Awards for authors and publishers
Awards to writers and editors of journal, magazine, and newspaper articles; program notes and/or liner notes and their respective publishers
Eric Boehlert: "Pay for Play," published by salon.com (Internet article)
Audra D.S. Burch: "Thug Life," published by The Miami Herald (print article)
Ben Edmonds, Smokey Robinson, Harry Weinger: Marvin Gaye: What's Going On (Deluxe Edition), issued by Universal Music Enterprises (liner notes)
David Fricke: "Shelter from the Storm," published by Sacred Hearts & Fallen Angels: The Gram Parsons Anthology, issued by Rhino Records (liner notes)
Chester LaneThe Vital Role of Community Orchestras in America," published in Symphony, the magazine of the American Symphony Orchestra League
Andrew Manze: Harmonia Mundi USA (liner notes)
Howard Reich and William Gaines: "The Great Violin Chase," published by The Chicago Tribune (print article)
Greg Sandow: "View from the East: Kitschometer," published on NewMusicBox, the Web magazine from the American Music Center (Internet article)
Ken Tucker: "Webb Pierce's 'There Stands the Glass,'" published by Tin House
Radio Broadcast Award—Fresh Air: Terry Gross, Host and Co-executive Producer; Danny Miller; Co-executive Producer; WHYY Radio, Philadelphia; National Public Radio
Television Broadcast Award—Evening at Pops: "Fiddlers Three": Keith Lockhart, Boston Pops Conductor; Bill Cosel, Producer; Chris Brubeck, Composer of Interplay
Internet Award: www.musicalamerica.com: Susan Elliott, Editor
The Timothy White Award for Musical Biography: Charles R. Cross: Heavier than Heaven: A Biography of Kurt Cobain
ASCAP Deems Taylor Special Recognition Awards: