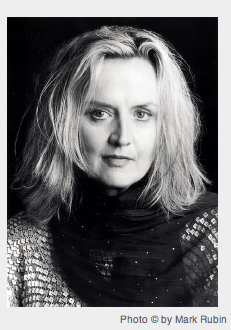 4 articles on NewMusicBox
Show activity on NewMusicUSA 1 media item
I'm a composer and librettist, and write operas, instrumental and electronic music. My work is heavily influenced by my exposure to forms of non-Western ritual drama, music and ancient literature, and focuses on the position of women in different cultures.
My operas include Criseyde (2010), a chamber opera performed by the New York City Opera VOX and the American Virtuosi chamber orchestra in 2008 and by the University of North Carolina - Greensboro in 2009. It is a feminist retelling of Chaucer's "Troilus and Criseyde" in a twisted version of Chaucer's own medieval English. Komachi at Sekidera (2000), my mini-opera based on a Japanese Noh play.is recorded on Koch International Classics, and was last performed Dec.1, 2015 at Opera America in NYC. Apocalypse (1994), recorded on New World Records, uses my choreographic knowledge gained from 10 years' study and performance of Indian Bharata Natyam dance-drama to apply traditional Indian theatrical techniques for use by Western singers. In traditional Bharata Natyam dance-drama itself, I performed with the Swati Bhise Bharata Natyam Troupe at venues including Wesleyan University, The Asia Society, and Juilliard . Other operas include Mass for the Dead (1993), and Shaman (1992) premiered by the American Chamber Opera Company in NYC; Wraecca (1987) premiered by The Composers Chamber Theater in NYC; and Shivatanz (1994), premiered at the Akademie der Künste in Berlin.
Currently I'm working on two one-act operas: Zhaojün - A Woman of Peace, which is based on Chinese traditional theatrical techniques; and Komachi on the Path of Clouds, which is based on traditional Japanese theatrical techniques. ---But how can I apply such non-Western theatrical movements to Western opera singers, you might ask? -- Because I myself have been a professional opera singer, performing roles on the roster of the New York City opera, at the Metropolitan Opera At-the-Forum, the Washington Opera Society and other companies. So I know pretty well what's possible in the way of acting and movement for classically trained singers, expressive movements which will not disturb their hard-won vocal technique.
Upcoming performances of my works include The River of Memory for trombone and fixed audio media (in which the trombonist sings through the instrument), with trombonist Haim Avitsur and The Association for the Promotion of New Music (APNM), May 18, 2016 at Opera America, NYC; the world premiere of Quintet for Piccolo, Piano and Three Percussionists (which uses rhythmic interactions inspired by Indian Bhatata Natyam dance) with the Iktus Ensemble, June 4th, 2016 at The Firehouse Space, Brooklyn NY; and The Mud Oratorio (2003), a fixed audio media installation for the New York City Electroacoustic Music Festival, June 14th, 2016 at the Abrons Art Center in Manhattan (which uses electronic samples of Indian instruments). The Mud Oratorio is a 51-minute long work for modern dance with recorded libretto and music by myself, created for Dance Alloy of Pittsburgh, with Mark Taylor, choreographer, and the Theater and Dance Dept. of Frostburg State University.
As for my training as a composer, I received the Doctor of Musical Arts in music composition from Columbia University, studying with opera composers Jack Beeson and Otto Luening, Chou Wen-Chung, and electronic music pioneer Vladimir Ussachevsky. You can find recordings of my work on Koch International Classics, New World Records/CRI, Albany Records and Opus One Records. For more information, please see www.aliceshields.com and for musical scores to my three work samples, please go to https://alice-shields.squarespace.com/config#/pages|/welcome
Articles by Alice Shields: