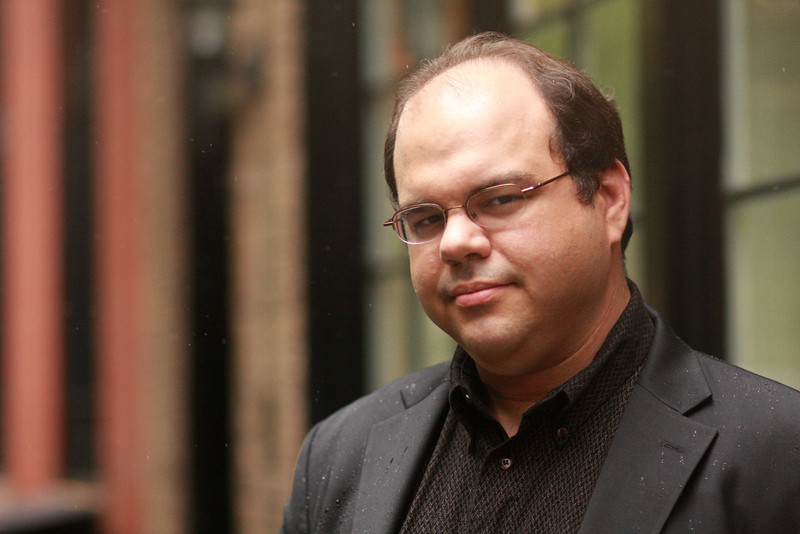 5 articles on NewMusicBox
Show activity on NewMusicUSA 2 media items
Born in 1973 in Santurce, Puerto Rico to Cuban parents, composer Armando Bayolo began musical studies at the age of twelve. At sixteen he went on to study at the prestigious Interlochen Arts Academy in Interlochen, Michigan, where he first began the serious study of composition. He holds degrees from the Eastman School of Music (B.M. 1995), where his teachers were Samuel Adler, Joseph Schwantner and Christopher Rouse; Yale University (M.M. 1997), where he studied with Roberto Sierra, Jacob Druckman, Ingram Marshall and Martin Bresnick; and the University of Michigan (D.M.A. 2001) where he studied with Michael Daugherty, Bright Sheng and Evan Chambers.
Mr. Bayolo has been hailed for his "suggestive aural imagination" (El Nuevo Día) in works that are "full of lush ideas and a kind of fierce grandeur, (unfolding) with subtle, driving power" (The Washington Post). His "music combines the audacity of popular music, the verve-filled rhythmic language of Latin America, and the pugnacity of postmodern classicism into a heady, formidable concoction" (Sequenza21), and "deserves to be heard many more times, and in many more places. It is new, it is fresh, and it gets its message across" (The Charlotte Observer) "with quite a high degree of poetic expressiveness" (Music-Web International).
Mr. Bayolo's music has been commissioned and performed throughout the world by some of today's most important musicians and ensembles including National Symphony Orchestra and Peabody Institute bassist, Jeffrey Weisner,violinist Cornelius Dufallo, cellist Natalie Spehar, violist Jason Hohn, guitarist D.J. Sparr, flutist Rowland Sutherland, clarinetist Katherine Kellert; conductors Mei-Ann Chen, Harlan Parker, Mark Scatterday, John Gordon Ross, Robert Geary, Julian Wachner, Robert Ponto, and Maximiano Valdés; the Society for New Music in Syracuse, NY, the Grand Valley State University New Music Ensemble, Trio Montage, the Euclid Quartet, the Bleeker ST Quartet, Volti, Janus Trio, Orfeón San Juan Bautista, the American Modern Ensemble, Third Coast Percussion, The Percussion Plus Project, London's Ensemble Lontano, Amsterdam's Hexnut, the South Jutlands Symphony of Denmark, the Puerto Rico Symphony Orchestra, Western Piedmont Symphony, Delaware Valley Symphony Orchestra, Wabash Valley Youth Symphony, Columbia Civic Orchestra, the Chicago Sinfonietta, the National Gallery of Art Orchestra and Vocal Arts Ensemble, the Washington Chorus and Washington Choral Arts Society, Great Noise Ensemble and the wind ensembles of Oregon State University, the University of Oregon, Arizona State University, the University of New Mexico, The Ohio State University and the Eastman School of Music.
Mr. Bayolo is the recipient of important commissions and awards from the Aspen Music Festival, Fromm Music Foundation at Harvard University, the Music Department of the National Gallery of Art, the Arts Councils of the states of Iowa and North Carolina, the Cintas Foundation, the Minnesota Orchestra and American Composers Forum, the Consortium for a Strong Minority Presence, the all-Virginia Intercollegiate Band, and the Festival Interamericano de las Artes.
Significant recent performances of Mr. Bayolo's music include the premiere of A Shelter that Filters the Sun by the Chicago Sinfonietta, Mei-Ann Chen, conductor; the European premiere of Lullabies at the 2013 International Clarinet Association conference in Assisi, Italy; the English premiere of Action Figure at the 2013 Lontano Festival of American Music in London; the world premiere of Cancionero Amoroso by Volti, Robert Geary, artistic director; performances of Mix Tape and Elegy: Sandy Hook at Spectrum, one of New York's most important new spaces for contemporary music; the mid-west premiere of Symphony: Savage Howls as part of the 2012 Bowling Green New Music Festival at Bowling Green State University; and a 40th birthday portrait concert hosted by the Atlas Performing Arts Center in Washington, D.C. Upcoming performances during the 2013-14 concert season include the world premiere of Mr. Bayolo's concerto for orchestra, Ráfagas de baile, by the Puerto Rico Symphony Orchestra, Maximiano Valdés, Artistic Director, at the 2013 Festival Interamericano de las Artes in San Juan; Alap and Towards Golgotha by Great Noise Ensemble in Washington; Hermandad by flutist Rowland Sutherland in London; Symphony: Savage Howls by the Oregon State University Wind Ensemble, Chris Chapman, conductor; Wide Open Spaces, by the Grand Valley State University New Music Ensemble, William Ryan, conductor, which the ensemble will take on its 2014 tour of the southwest; Little Black Book by D.J. Sparr as part of the ETHOS new music series at SUNY Fredonia; a portrait concert of Bayolo's chamber works as part of the ETHOS new music series at SUNY Fredonia; the Philadelphia premiere of Orfei Mors by Philip von Maltzahnn and the Delaware Valley Symphony; the Baltimore premiere of Mr. Bayolo's first symphony, Chamber Symphony: Illusory Airs by the Peabody Contemporary Ensemble, Harlan Parker, conductor; and the world premieres of Semblance of a Sonata for clarinet and piano, Singularity Songs for amplified string quartet and live engineer and a new work for chorus and ensemble for the Washington Chorus, Washington Choral Arts Society and Great Noise Ensemble. He is also working on an opera on the death of Che Guevara with librettist Kate Gale, director Kevin Newbury and producer Matthew Principe, for a slated 2015 premiere date.
Besides being active as a composer, Mr. Bayolo is an "adventurous, imaginative and fiercely committed (The Washington Post) advocate for contemporary music in American culture through his activities as Artistic Director and conductor of Great Noise Ensemble, curator of the New Music at the Atlas series and as a writer for such publications as Sequenza21 and NewMusicBox. With Great Noise Ensemble, Mr. Bayolo has led several world and regional premieres by a diverse group of composers, both emerging and established, like Joel Puckett, D.J. Sparr, Robert Paterson, Hannah Lash, Carlos Carrillo, Ryan Brown, David T. Little, David Smooke, John Adams, Michael Daugherty, Steve Reich, John Luther Adams, Frederic Rzweski, Poul Ruders, Ken Ueno, Gabriela Lena Frank, Martin Bresnick, Marc Mellits, Arlene Sierra and Louis Andriessen. As a conductor of "precision, imagination and tangible electricity" (The Washington Post), Mr. Bayolo has led Great Noise Ensemble to become the premiere contemporary music ensemble in Washington, D.C. and one of the most important arts organizations in the District of Columbia. He has specialized, particularly, in the music of Louis Andriessen, leading the first professional American ensemble performance of De Materie in 2010 and of La Commedia during the upcoming 2013-14 season as part of a week-long festival of Andriessen's music he has curated in honor of the composer's 75th birthday in 2014. As curator of the New Music Series at the Atlas Performing Arts Center, Mr. Bayolo has developed an innovative, adventurous concert series which has quickly become "a key destination for anyone interested in new American music" (The Washington Post) in the United States. His series has featured such luminary performers as Ethel, the International Contemporary Ensemble, the Bang on a Can All Stars, Kathleen Supove, the Prism Saxophone Quartet, So Percussion, Janus Trio, Maya Beiser, Tim Brady, Imani Winds, Newspeak, and eighth blackbird.
Mr. Bayolo has been featured on Public Radio International's Studio 360 broadcast out of WNYC in New York and on the NPR programFresh Inkbroadcast out of WCNY in Syracuse as well as the Washington Post and the New York Times' Opinionator Blog. He has also contributed articles to New Music Box and Sequenza21, where he was a Contributing Editor until 2011. As an educator, he has served on the music faculties of Reed College, Hamilton College and the Peabody Conservatory of Johns Hopkins University, where he taught music theory from 2008-2011. Most recently, he joined the faculty of the Charlotte New Music Festival as a guest composer during the 2013 session, and plans to return for the 2014 season. He is the recipient of a 2011 Fromm Foundation grant from Harvard University, the 2008 Brandon Fradd fellowship in music composition from the Cintas Foundation, a fellowship from the Consortium for a Strong Minority Presence from 2006-2008 and various other awards and honors from the American Composers Forum, the University of Michigan, BMI, ASCAP and the arts councils of Iowa and North Carolina. His cello concerto,Orfei Mors and the cantata,Kaddish:Passio:Rothko, were each nominated for the Pulitzer Prize in music. Mr. Bayolo's music has recently been released on the Innova label with upcoming releases on Great Noise Ensemble's home label due in 2013 and is published by his own imprint, Olibel Music and available through his web site, www.armandobayolo.com.
He lives outside of Washington, D.C. with his wife and two daughters.
Articles by Armando Bayolo: