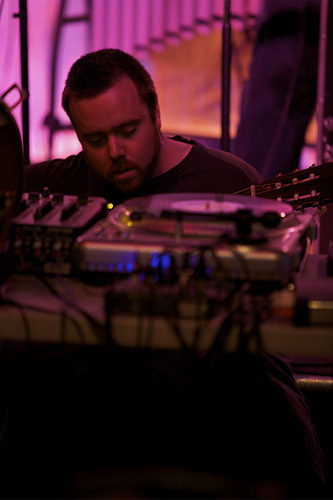 2 articles on NewMusicBox
Show activity on NewMusicUSA 1 project 3 media items
Erik Spangler (a.k.a. DJ Dubble8) is a composer and electronic musician living in Baltimore, Maryland. Engaged equally with ensemble improvisation, live sample-based mixing, guerilla community sound art, hybrid electronica production, and notated chamber music, Spangler aims to dissolve cultural boundaries while drawing all corners of inspiration into cohesive sound images. Autobiographical audio artifacts, field recordings and found sounds share equal space with newly composed material- all aspects influencing each other. Erik is a professor of Sound Art at Maryland Institute College of Art. He is also Co-Founder/Curator of Baltimore Boom Bap Society, a music series focusing on improvised hip-hop with musicians from diverse backgrounds.
Articles by Erik Spangler:
Articles
December 10 2014 | By Erik Spangler
The Banjo Faces Its Shadow
The banjo's timbre cuts to some of the deepest seams of America's past. To a number of contemporary banjo players and composers, the well of history and associations surrounding the...
Articles
September 10 2008 | By Erik Spangler
In The Cut: A Composer's Guide To The Turntables
While turntablism and its impact on the growth of hip-hop is well documented, the turntables have not received much notice in musical academia. Through this article, I hope to introduce...