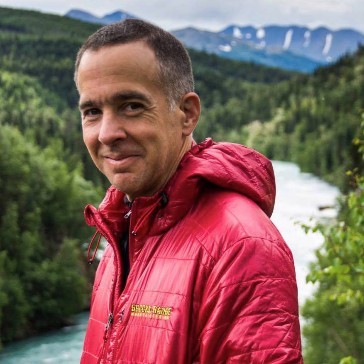 4 articles on NewMusicBox
Show activity on NewMusicUSA 3 media items
Adventurer-composer Stephen Lias's passion for wilderness and outdoor pursuits has led to a growing series of works about the national parks of the US. He has had residencies at Glacier, Rocky Mountain, Denali, Glacier Bay, and Gates of the Arctic National Parks, and has written over a dozen park-related pieces that have been premiered in such far-flung places as Colorado, Sydney, Alaska, and Taiwan. Five of his park-inspired pieces appear on the new CD Encounters, and his most recent orchestral piece, Crown of the Continent, will be included on an upcoming CD from Parma Records.
Stephen's music is regularly performed in concert and recital throughout the United States and abroad by soloists and ensembles including the East Texas Symphony, the Oasis Quartet, the Louisiana Sinfonietta, the Fairbanks Summer Arts Festival Orchestra the Boulder Philharmonic, and the Chamber Orchestra Kremlin.
In the coming year, his orchestral works will be played by the Shreveport Symphony, the Fairbanks Symphony, the Rochester Philharmonic, and the Anchorage Symphony. He also has received an NEA-funded commission from the Boulder Philharmonic to produce a new piece about Rocky Mountain National Park that will be premiered in 2017 at the Kennedy Center for the Performing Arts as part of the SHIFT Festival of American Orchestras.
Stephen is the founder and leader of the "Composing in the Wilderness" field course offered jointly by Alaska Geographic and the Fairbanks Summer Arts Festival. He currently resides in Nacogdoches, Texas where he is Professor of Composition at Stephen F. Austin State University.
Articles by Stephen Lias: