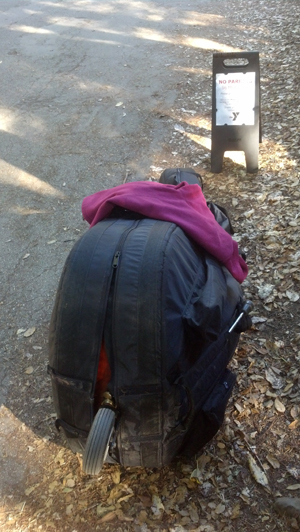 The 2013 session of Jazz Camp West began last Saturday. This year's faculty roster includes some of the most respected and widely known artists playing jazz today. Examples include trombonist-composer Wayne Wallace, pianist-composer Jovino Santos Neto, drummer-composer Matt Wilson (who is this year's artist-in-residence), and the vocal-guitar duo Tuck and Patti (Tuck Andress and Patti Cathcart). To be thorough, the list also includes: pianists Randy Porter, Glen Pearson, Dan Zemelman, Ben Heveroh, Walter Bankovitch, and Matt Jenson; trumpeters Erik Jekabson and Mario Guarneri; saxophonists Laura Dreyer and Charles McNeal; flutist John Calloway; drummers Allison Miller, Deszon Clairborne, and Tommy Shepherd; vocalists Faye Carol, Terrence Kelly, Greta Matassa, Michelle Hawkins, Celia Malheiros, and Shanna Carlson; guitarists Anthony Michael Peterson and Brian Pardo; bassists Troy Lampkins and Hans Holt; percussionists John Santos, Ami Molinelli, and Mark Rosenthal. Dance is an integral part of Jazz Camp West and the lineup of dance instructors features Sidney Weaverling, Ryan Mead, Lynn Brilhante, Ronnie Reddick, and Aaron Draper. I had the pleasure of attending as a faculty member in 2012 and consider it an honor to be returning in the same capacity. Since a summary of the camp's history and its founders' vision can be found in last year's post, this post will focus more on my own impressions of the camp's daily routine.
Breakfast is the first scheduled event that takes place in two dining hall rooms, one to serve (well, self-serve, buffet-style) and one to dine in. The fare is all-American: scrambled eggs for 300 people, bacon, potatoes, fruit (cantaloupe, melon, grapes, apple, and/or banana), oatmeal offered in a wide range of viscosities, toast, oleo, juice, and the all-important coffee. (Tea or hot chocolate is available as an alternative caffeine delivery beverage.) This starts at 8 a.m. and is interrupted promptly at nine by the morning yoga class. For those who want to engage in an activity less physically demanding, there are jam-sessions and classes to attend. I don't want to engage in physical activity at that hour and usually sleep through breakfast, but as early as 9 a.m. I could take classes in beginning improvisation, jazz basics and fundamentals, paradiddles for beginning drummers, advanced theory and ear training, Cuban-style salsa and rueda de casino, how to play the pandeiro, and how to spit out rapid-fire lyrics—or play free music!
This is all available during the first hour here. All of the classes are an hour long and later in the day student campers can pick from an offering of topics ranging from hip hop basics to the music of Bob Marley to laying in a gospel rhythm section to playing steel drums. There are combos where students get tips on how to better work together as a group and late-night jam sessions where they get to play with the instructors named above. Every day two concerts are held, one featuring the students and one featuring the faculty. Needless to say, the faculty concerts are miniature jazz festivals in themselves.

Tuck and Patti in performance at Jazz Camp West on Tuesday, June 25, 2013
Tuesday marked the official 30th anniversary of Jazz Camp West, and the faculty concert was a fantastic celebration of music and emotion. Many of the artists involved in JCW feel that it is one of the high points of their year. One artist stated in a faculty meeting that it is the best teaching situation he is involved in. Allison Miller originally came as an artist-in-residence and has returned no less than three times as a regular faculty member. This year marks the sixth time Tuck and Patti have come to teach at JCW. One of the reasons for this is that Jazz Camp West is a place that honors the idea of spirituality as an element in music instruction. It's not an institutional environment that needs to negate intuition and passion, but rather a learning environment that fosters and salutes them. In this sense, JCW is a bridge between the traditional and modern approaches to jazz education, where the former was steeped in mentorship and the latter in academic meritocracy.
Of course, current economic trends have forced Living Jazz, the umbrella organization that sponsors Jazz Camp West, to start thinking of new ways to raise money so that JCW can see another 30 years of teaching American music. Hopefully, next year will see a surge in attendance and contributions from interested donors. I know that I have become smitten with the experience of Jazz Camp West and hope that I will be invited back again and again. But that can only happen if JCW stays in business.