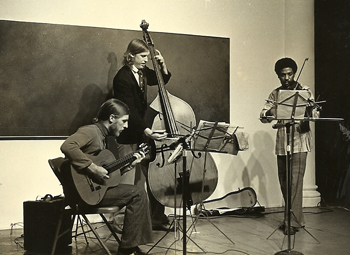 The String Trio of NY at the Alternative Center for International Arts in 1978: James Emery, guitar; John Lindberg, double bass; Billy Bang, violin.
[Ed Note: Mobile, Alabama-born composer, violinist, and bandleader Billy Bang (b. September 20, 1947; d. April 11, 2011) was one of the key figures in the New York experimental jazz scene of the past four decades. We asked double-bassist John Lindberg with whom Bang and James Emery formed the seminal String Trio of New York back in 1977 to reminisce about Bang both as a musician and a close personal friend.—FJO]
I was standing on East Third Street on New York's Lower East Side talking to my roommate, the drummer Charles "Bobo" Shaw, the first time I encountered Billy. He walked by and simply said, "Hi Bobo," which was acknowledged with a return nod. I inquired who the passerby was.
"That's Billy Bang, man. He's a badass violin player."
Not long after that, I was immersed in maniacal duet jam sessions with my friend, the guitarist James Emery, in a storefront on East Fourth Street, that we engaged in regularly and for hours on end. One day Billy stopped and asked if he could join in. Sure. After we had played for what in retrospect seems like just a few minutes or so, we all stopped. We had taken on a collective look of bemused amazement. The sound. The sound alone, the timbre, the resonance of what had come from our three instruments—violin, guitar, and double bass—as we had delved into a high-energy improvisation, had astounded us all. There were smiles all around. Then we played on, and on. We excitedly planned to get together again, and in short order figured that the unique and original sound we were creating as a unit called for formalizing ourselves as a band, and the String Trio of New York was born in 1977.
The organic way the trio formed is also symbolic of Billy himself. We did not set out to form a string trio by choosing the instrumentation and then creating an ensemble concept; the sound chose us and we ran with it. I observed Billy absorb and contribute to life and music with just this same utterly open and reactive nature for many years.
The now historic bygone times of the incredible atmosphere of creativity, originality, and fluid interconnections that permeated the Lower East Side cultural scene of the '70s and '80s lent the perfect environment for the trio's unique and lasting creative voice to take hold, be disseminated, gain an audience, and forge a path for long term development. Billy's role in all of this was vital. He contributed numerous memorable works to our repertoire, while invigorating my own pieces and the works of James Emery with interpretational singularity and improvisational fire and invention that only he, a truly one-of-a-kind artist, could do.
His tenure in the trio, from 1977 to 1986, was a time of close friendship, rampaging travel around the world performing and recording prolifically, while experiencing myriad aspects of life together. This was an intensely shared period that certainly forged much of the core of my own creative vision and the perspectives that I carried into the future. In this same period of time we also did several duet performances—one released as an album—and he played and recorded in a quintet I led in the early eighties, allowing me to see even further into the depth of his character as an artist and human being. To get to know Billy on this intense personal level and create and perform music with him at the heights to which we took it, was nothing less than a distinct honor and privilege that I will always cherish.
While the ensuing twenty-five years saw us taking different paths and being largely out of touch, when we did reconnect it was always a special pleasure, full of laughter and reminiscing as if no time at all had gone by, really.
Perhaps the experience which stands out to me as most emblematic of his true spirit took place at the Wiesen Jazz Festival in Austria in 1981, during a String Trio of New York performance. My parents were there among the large audience, having come to Europe for my marriage ceremony which was shortly to follow, and took the initiative to get to Austria for this performance as well. It was a great performance. I remember we were really blazing, and after a couple of pieces, Billy picked up a microphone and said, "Well, we have a very special couple of members in the audience today and everybody should meet them. All the way from America to see their son John perform, Mr. And Mrs. Lindberg!" He pointed out to where he had noticed they were sitting and motioned for them to stand up, which they did to thunderous applause, and very moved. He then leaned over to me, sweat dripping from his brow, and chuckled, "I thought you were going to do that." I just shook my head and smiled. I'd never even thought of it. It is that kind of gesture that I think tells volumes about the human being Billy Bang was. My dad later mentioned, "That guy really has charisma. He's one of the best." Coming from my father, this was the highest of compliments, and so very accurate.
Billy could get along, find points of commonality, with any kind of person. I learned an enormous amount from him, both on and off the stage. Billy and I shared many bonds and similarities, including our eschewal of formal education, which was a frequent topic of conversation and commiseration. Our emotional ties were strong, and those ties transcended many of the difficulties and potential conflicts working artists commonly face. He had a charm, warmth, and genuine quality about himself and his music that made other people feel good. He made the planet a better place by his mere presence on it.