Some days when I wake up, I marvel at the fact that I have the opportunity to write music that some people want to perform and others want to hear. In addition, I have a fun day job that directly relates to my compositional life, allows me to continue improving my musicality, and keeps me continually engaged in dialogue with incredibly interesting colleagues and students. This vocation allows me to accept only those projects that I find most interesting and to experiment without fear that my stretching of artistic boundaries will leave my larder bare. In short, I understand that I am a fortunate son.
Even though I am the first to extol my good luck, at unpredictable intervals I enter periods in which I remain inexorably and unequivocally incapable of work. I can be remarkably gluttonous in my hunger for intriguing opportunities, and sometimes a glut of good fortune can leave me working beyond my constitutional capabilities. Then, suddenly and without warning, I realize that my sources of energy have been reduced to mere embers. I find myself in the state of burnout.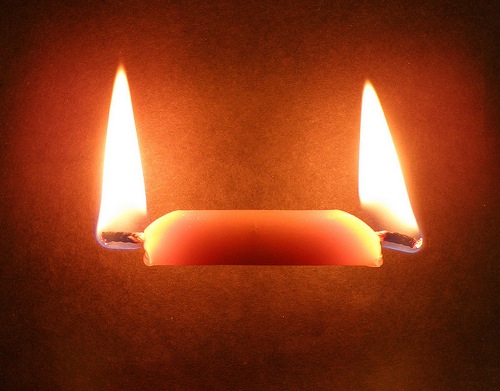 This fall, I enjoyed many interesting new tasks at work as I began my first semester as chair of the theory department at the Peabody Conservatory and as I co-organized a conference on distance learning technology. Adding these duties to my relatively full teaching load presented an organizational challenge. During the time that I had allotted for putting new compositions to paper, I found myself needing to revise previously composed pieces as they neared their premieres and composing a large work for amplified toy piano and looping pedal that I performed myself. Meanwhile, as my deadlines loomed ever closer, I convinced myself that winter break would allow for an opportunity to compose like a fiend and to complete a large piece with an imminent deadline in no time flat.
Ha.
Instead, I found myself spending day after day staring blankly at my sheets of paper. Some days I'd force myself to write passages, only to despair later as I faced the truth that the music I was producing was not worth keeping. I gave myself small side projects to keep myself at my desk, hoping to engender that compositional spark, but to no avail.
One day, I realized that the last time that I'd felt my creative energy similarly sapped was immediately before I contracted a serious viral illness that led to an extended convalescence. Not wanting to compose my way back into the hospital (decompose?), repeating the mistakes of my own past, I accepted the fact that was staring me in the face: I had reached the limits of my capabilities and I needed a break. Stat.
The good news is that once I accepted that I was in a state of burnout, my depression began to lift. This allowed me to begin to complete some of the small bureaucratic chores that needed my attention in order to spark future projects. Each miniscule accomplishment led towards a greater feeling of well-being that I could apply towards the next task. Currently, I finally am finding myself capable of sustaining the level of concentration necessary to complete larger projects (like this column). This new-found energy is arriving in the nick of time, since later this week I'm traveling to Pittsburgh to present a concert with the League of the Unsound Sound, and another semester will begin immediately upon my return.
And what about the composition that sparked this edition of burnout? Eventually, I contacted the director of the organization and told him that I was unable to meet his deadline. Fortunately, he is as good of a human being as he is a musician, so his immediate response was concern for my health, and we worked out a new schedule that should allow me enough time to complete the piece. I am hopeful that I have mentally refueled enough to achieve my goals for this new year.
I find that the more I try to fight the need to convalesce, the longer I'm stuck in the creative rut and the more painful I find my time there. For me, the best lesson to take from these periods of burnout is the need to wallow in indolence, to force myself to attempt to enjoy the suddenly imposed respite. Only then can I begin to walk the road to recovery.