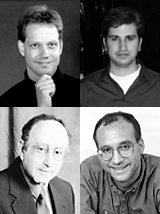 4 happy CAP Grant recipients: (clockwise from upper left) Benjamin Boone, Karim Al-Zand, Michael Rose, Stephen Dankner
Any composer knows that even after all the notes have been put into place on the page and all of the musical problems have been sufficiently worked out, a lot of work remains to be done before the premiere. Making copies of the score, extracting parts, rehearsing the piece… Not only do these processes take a great deal of time, but they require a significant amount of financial investment from the composer, and money, as we all know, is not something that many composers have an abundance of. This is where the American Music Center's Margaret Fairbank Jory Copying Assistance Program (CAP) comes into play. Since 1963, this one-of-a-kind program has given over $2 million to 1225 composers to help them prepare their works for performance. Recipients must be members of the American Music Center and award amounts are based on the needs of the work at hand. Awards are given three times a year and in this round, the first of 2003, $32,200 was granted to 24 composers from 12 states ranging in age from 29 to 79.
The program is supported primarily by Helen F. Whitaker Fund, with additional support from the Mary Flagler Cary Charitable Trust and JP Morgan Chase. "The Copying Assistance Program is one of the Center's core programs," said Richard Kessler, Executive Director of the American Music Center. "Many composers look to this program to help offset the substantial costs of preparing materials for important premieres of their work."
Like many composers who have benefited from a CAP grant, Benjamin Boone described the funds he received as a "lifesaver." A professor at California State University-Fresno and a new father, Boone simply didn't have the time to dedicate to editing and production of the parts of his Baritone Saxophone Concerto that he had composed for Brad Hubbard and the Western Piedmont Symphony Orchestra in Hickory, NC. With the money, he was able to hire two assistants. "For the first time in my life I finished a piece without staying up more than one night…I was able to be rested for the rehearsals and performance," he shared. "Most importantly, I was able to focus on the auditory music rather than whether a slur went through a notehead or triple checking pagination. I feel like I've experienced a type of liberation…like someone who tastes freedom for the first time. The piece is much better because of it."
Karim Al-Zand, in Houston, TX, explained that although he received a commission for his orchestral work, The Seventh Voyage of Sindbad, the money didn't cover copying costs. This is exactly the situation that the copying assistance program was designed to help. "The CAP program is an invaluable source of support for composers," summarized Al-Zand.
And even though his ballet score for The Night of the Iguana already received its premiere in Nashville, TN, Michael Rose is grateful for the recognition and finacial support that helped him to offset the enormous dent that copying costs had taken out of his personal savings. He looks forward to being able to make further revisions and calls the resource "indispensable in the very likely event of an upcoming second set of performances in the near future."
"I am most grateful for the support of the AMC, and have been a member for many years," Stephen Dankner adds. In his case, he has significant production needs for his Symphony No. 5: Odyssey of Faith for the Louisiana Philharmonic Orchestra, the Symphony Chorus of New Orleans and the Loyola University Chorus. His began this piece on September 12, 2001. He calls it, his "most personal work to date" and it will be premiered in March 2004.
The next deadline for submissions is May 1.
March 2003 CAP Grant Recipients

| | | | |
| --- | --- | --- | --- |
| COMPOSER | RESIDENCE | COMPOSITION | PERFORMERS |
| Karim Al-Zand | Houston, TX | The Seventh Voyage of Sindbad (orchestra) | Orchestra X; Zilkha Hall; Hobby Center for the Performing Arts |
| James Barry | Tallahassee, FL | Snapshot (orchestra) | Tallahassee Symphony Youth Orchestra; Opperman Music Hall; Tallahassee, FL |
| Harold Blumenfeld | St. Louis, MO | Borgia Infami (opera) | New York City Opera; New York, NY |
| Benjamin Boone | Fresno, CA | Baritone Saxophone Concerto (w/orchestra) | Brad Hubbard and Western Piedmont Symphony Orchestra; Hickory, NC |
| Cary Boyce | Bloomington, IN | Dreams Within a Dream (oratorio) | Bloomington Chamber Singers and Orchestra; Buskirk-Chumley Theater; Bloomington, IN |
| Robert Bradshaw | Gloucester, MA | Mackerel Sky (orchestra) | Cape Ann Symphony; Stage Fork Park; Gloucester, MA |
| Michael Bump | Kirksville, MO | Studie II: Epthyic (chamber work for percussion) | Truman State University Graduate Percussion Group; 2003 Percussive Arts Society International Convention; Louisville, KY |
| Chandler Carter | New York, NY | Strange Fruit (opera) | New York City Opera; New York, NY |
| Stephen S. Dankner | Metairie, LA | Symphony No. 5: Odyssey of Faith (oratorio) | Louisiana Philharmonic Symphony and Chorus & Loyola University Chorus; Orpheum Theatre; New Orleans, LA |
| Ralf Yusuf Gawlick | Newton, MA | …de la mas sabrosa y agradable vida… (orchestra) | Civic Symphony of Boston; Jordan Hall; Boston, MA |
| Sam Glaser | Los Angeles, CA | various works for choir and orchestra | Sam Glaser Band & Los Angeles Jewish Symphony; Alex Theater; Glendale, CA |
| Jonathan Bailey Holland | Somerville, MA | Actions Rendered: Interpretations of Pollock for Three Orchestras | South Bend Symphony; South Bend, IN |
| Albert Hurwit | Hartford, CT | Symphony No. 1 (orchestra) | Hartford Symphony Orchestra; Bushnell Center; Hartford, CT |
| William Kraft | Altadena, CA | Red Azalea (opera) | University of California Santa Barbara; Lotte Lehmann Concert Hall; Santa Barbara, CA |
| Patrick Long | Selinsgrove, PA | Quintet (piano quintet) | Corigliano String Quartet & Jennifer Blyth; Dickinson College; Carlisle, PA |
| James Matheson | New York, NY | Concerto for Piano and Chamber Ensemble | Charles Abramovic, soloist; Orchestra 2001; Kimmel Center; New York, NY |
| John Newell | Worthington, MA | Concerto for Piano and Orchestra | John Newell, soloist; Enid Symphony Orchestra; Enid, OK |
| Michael Rose | Nashville, TN | The Night of the Iguana (chamber orchestra for ballet) | Nashville Ballet & Vanderbilt New Music Ensemble; Martha Rivers Ingram Center for the Performing Arts; Nashville, TN |
| Alex Shapiro | Malibu, CA | Current Events (string quartet) | Pacific Serenades; Los Angeles, CA |
| Alice Shields | New York, NY | Azure (chamber ensemble & tape) | The Azure Ensemble; Merkin Concert Hall; New York, NY |
| John Steinmetz | Altadena, CA | Concerto (bassoon and orchestra) | Los Angeles Chamber Orchestra; Alex Theater; Glendale, CA |
| James Stepleton | Little Ferry, NJ | The Awakening (opera) | New York City Opera; New York, NY |
| Ezequiel Viñao | New York, NY | SAGA (chamber ensemble) | Absolute Ensemble; Miller Theatre; New York, NY |
| Erling Wold | San Francisco, CA | Sub Pontio Pilato (opera) | various performers; ODC Theater; San Francisco, CA |