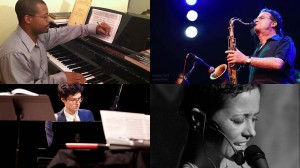 Twice a year, New Music USA receives an influx of applications from composers across the United States who are seeking support for their newly created works.
The Composer Assistance Program is intended to help emerging to mid-career composers offset costs associated with live premieres and public readings of new or significantly revised works. Supported expenses include copying costs, score and part extraction and reproduction, travel and lodging; costs for obtaining copyrighted material, and more.
73 applications were received for premieres and first performances spanning from April of 2012 to October of 2013. A complete list of the most recent composer awardees and information about their works appears below.
Samuel Carl Adams
Brooklyn, NY. Samuel Carl Adams is awarded for Tension Studies No.s 1 and 2, to be premiered in April of 2013.
Julia Adolphe
Los Angeles, CA. Julia Adolphe is awarded for Sylvia, A Chamber Opera, to be premiered in March of 2013.
Timo Andres
Brooklyn, NY. Timo Andres is awarded for Comfort Food, premiered November 18, 2012.
Daniel Blake
Brooklyn, NY. Daniel Blake is awarded for Viññana, to be premiered in February of 2013.
George Brooks
Berkeley, CA. George Brooks is awarded for The Alchemy of Happiness, premiered September 8, 2012.
Christopher Cerrone
Brooklyn, NY. Christopher Cerrone is awarded for Flows Beneath, premiered October 25, 2012
Nomi Epstein
Chicago, IL. Nomi Epstein is awarded for Pillars and Glisses, premiered June 8, 2012.
Mohammed Fairouz
New York, NY. Mohammed Fairouz is awarded for Sumeida's Song, premiered January 9, 2013.
Sean Friar
Pacific Palisades, CA. Sean Friar is awarded for Clunker Concerto, to be premiered in February of 2013.
Michael Gatonska
East Hartford, CT. Michael Gatonksa is awarded for Shinrin-yoku (Forest Bathing), to be premiered in May of 2013.
Troy Herion
New York, NY. Troy Herion is awarded for New York City Symphony, premiered April 5, 2012.
Huck Hodge
Seattle, WA. Huck Hodge is awarded for Tetzahuitl: two scenes from the Aztec book of omens, premiered November 6, 2012.
Tonia Ko
Ithaca, NY. Tonia Ko is awarded for Sunken Sky, premiered December 19, 2012.
Emily Koh
Waltham, MA. Emily Koh is awarded for freyja, premiered October 15, 2012.
James Lee III
Edgewood, MD. James Lee III is awarded for Gye Nyame, premiered January 13, 2013.
Kerrith Livengood
Champaign, IL. Kerrith Livengood is awarded for Bird Convergence, to be premiered in the spring of 2013.
Evan Meier
College Park, MD. Evan Meier is awarded for The Last Act of Revolution, premiered November 8, 2012.
Milica Paranosic
New York, NY. Milica Paranosic is awarded for The Tiger's Wife: Prologue, premiered October 26, 2012.
Jack Perla
San Francisco, CA. Jack Perla is awarded for Pretty Boy, premiered December 14, 2012.
Kala Pierson
Glenside, PA. Kala Pierson is awarded for Cry of Stars, premiered August 26, 2012.
Jane Rigler
Colorado Springs, CO. Jane Rigler is awarded for While You Sleep, to be premiered in June of 2013.
Baljinder Sekhon
Wesley Chapel, FL. Baljinder Sekhon is awarded for There Are No Words, to be premiered in February of 2013.
James Stephenson
Lake Forest, IL. James Stephenson is awarded for Tributes: A Violin Concerto, premiered April 11, 2012.
Octavio Vazquez
New York, NY. Octavio Vazquez is awarded for his untitled trio for oboe, bassoon, and piano, to be premiered in February of 2013.
Christopher Walczak
Madison, WI. Christopher Walczak is awarded for Praxis, Theoria, Gnosis, to be premiered in March of 2013.
Daniel Wohl
Brooklyn, NY. Daniel Wohl is awarded for his untitled piece for bass clarinet and electronics, to be premiered in May of 2013.
Eric Wubbels
Oberlin, OH. Eric Wubbels is awarded for Processing, premiered January 11, 2013.