Piano competitions are inherently heated events—something like an olympics for musicians.
As perhaps the most famous and prestigious event in the piano world, the Van Cliburn International Piano Competition in Fort Worth, Texas, is an especially intense affair. Thanks to the Southwest sun and temperatures in the low 90s, the 12th annual Cliburn had a genuine pressure-cooker atmosphere. The event ran May 20 through June 5 at the five-year-old Bass Hall in the downtown district of what Texans lovingly call Cowtown.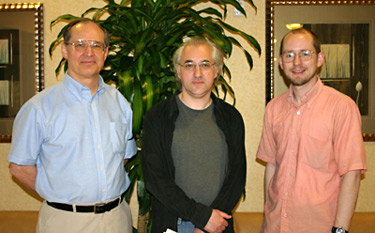 Ambassadors for new music: Composers Jan Krzywicki, Sebastian Currier, and Daniel Kellogg (l to r) represent at the Van Cliburn International Piano Competition
Photo by Susan Nowicki
The 35 young keyboard competitors are the ones who really felt the fever. Ranging in age from 19 to 30 years old and coming from 13 countries, they had to prepare enough repertoire for a 50-minute recital in the preliminary round, another 60-minute recital plus a piano quintet for the semifinals, and yet another 50-minute recital and two concertos for the finals. No repertoire could be repeated from one round to the next.
New American music was very much a part of the mix, and for many competitors that probably just raised their temperature further since contemporary music isn't usually part of an aspiring soloist's training. While mainstream virtuoso works were the rule, with lots of Liszt, Chopin, Schumann, Rachmaninoff, Brahms, and Beethoven, every program in the semifinal round also included a piece by one of these five Americans: Sebastian Currier, Jennifer Higdon, Daniel Kellogg, Jan Krzywicki, and Ruth Schonthal.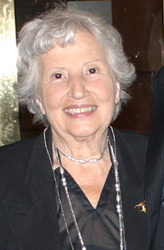 Composer Ruth Schonthal was also on hand to hear how the semifinalists tackled her piece.
Photo by Daniel Kellogg
Actually, the composers were competitors as well, but in a different contest: the Cliburn's second American Composers Invitational. The composers' works were sent to all the competitors who had to select one for performance in the semifinal round—should they be lucky and skilled enough to get that far. The composer performed by the most semifinalists would be the winner. Sebastian Currier took home the top prize of $5,000, while each of the other composers who had a work played in the semifinals received $2,500 (which this time included everyone but Krzywicki).
For the record: The big winner of the 2005 Cliburn was, of course, a pianist, not a composer. Alexander Kobrin, 25, of Russia took the gold medal, while Joyce Yang, 19, of South Korea won the silver. Each receives $20,000 and an array of concert bookings, management support, and a recording deal with the Harmonia Mundi label.
Though the American Composer Invitational brought even more competition to the Competition, its purpose is not really to pit one composer against another. Rather, its aim is to allow more new music to be heard and to allow young pianists the opportunity to match their own instincts and sensibilities to a contemporary work, instead of having a single new piece imposed upon them.
"I've been at other competitions [where there's a commissioned piece] and the competitors all hated it," says Richard Rodzinski, president of the Van Cliburn Foundation. "I've seen them come off stage and stomp on it."
For most of its history, the Cliburn did commission a single new piece for each competition. The success rate of those pieces is a lot like the success rate of its gold medalists—mixed at best.
"There are no superstar composers alive now and a big name doesn't mean a great work," continues Rodzinski. The new system, he says, tells pianists to "pick something you like and sell it—and it signals composers to write music [that] performers want to play."
COMPOSERS AT THE CLIBURN: HISTORY
One shouldn't look to the career of 70-year-old Van Cliburn for any inspiration when it comes to contemporary music—Prokofiev is about as far as he's gotten into the modern era. But the competition named for him and launched in 1962 has always featured new American music. Their first time out, the ambitious folks in Fort Worth commissioned Lee Hoiby's Capriccio on Five Notes, and they made every competitor learn it.
Commissioning a new work for each competition continued as the pattern for the first ten Van Cliburn International Piano Competitions. Here's the list of those pieces:
| | |
| --- | --- |
| 1962 | Lee Hoiby: Capriccio on Five Notes |
| 1966 | Willard Straight: Structure for Piano |
| 1969 | Norman Della Joio: Capriccio on the Interval of a Second |
| 1973 | Aaron Copland: Night Thoughts (Homage to Ives) |
| 1977 | Samuel Barber: Ballade |
| 1981 | Leonard Bernstein: Touches |
| 1985 | John Corigliano: Fantasia on an Ostinato |
| 1989 | William Schuman: Chester – Variations for Piano |
| 1993 | Morton Gould: Ghost Waltzes |
| 1997 | William Bolcom: Nine Bagatelles |
It's not a bad group of names at all. The pieces usually clocked in around ten to twelve minutes; it would be neat to have a CD collection featuring all of them. Certainly there was a good run from 1973 to 1981—Copland, Barber, Bernstein—what Rodzinski probably considers "superstar composers." And those composer's pieces are probably the ones that have had the most life, both in concert and on disc. Two Cliburn commissions, the Barber Ballade and Bolcom's Bagatelles, showed up again this year in Fort Worth on the programs of two different pianists.
OTHER CONTEMPORARY WORKS IN 2001 AND 2004
For each Cliburn Competition there's a thick, handsome program book that lists the complete repertoire that each competitor brings to the competition. Much of the music doesn't actually get heard due to the process of elimination—35 competitors started this year, 12 made it to the semifinals, and only 6 to the finals. But it's fascinating to flip through the 2001 and 2005 books and spot the relatively sparse amount of newish music that was in the minds and fingers of the young pianists as they headed to Texas.
First, it's worth acknowledging the early and mid-20th century composers that are getting played. Prokofiev and Bartók are regularly represented, and Schoenberg and Stravinsky appear now and then. Rachmaninoff and Ravel are as popular as Beethoven and Chopin.
Here's a list of the more off beat modern and contemporary works that competitors brought to the 2001 Cliburn:
Aaron Copland: Piano Variations
Copland/Bernstein: El Salon Mexico
Samuel Barber: Sonata for Piano, Op. 26
Leonard Bernstein: Touches (1981 Van Cliburn Competition commission)
Yuri Blinov: Impromtu & Fugue (from competitor Yuri Blinov)
George Crumb: A Little Suite for Christmas, A.D. 1979
Henri Dutilleux: Sonata
Rodion Konstantinovich Schedrin: Prelude & Fugue
Olivier Messiaen: selections from Vignt Regards sur l'Enfant-Jesus
Frederic Rzewski: Winnsboro Cotton Mill Blues
Toru Takemtisu: Litany II
The American pianist Andrew Russo was responsible for the Copland, Crumb, and Dutilleux, as well as some Schoenberg and Scriabin. According to Russo's website, his performance of Crumb's A Little Suite for Christmas, A.D. 1979 marked the first time that a pianist played on the inside of the piano at the Cliburn. Though Russo didn't make it past the preliminary round, he went on to collaborate with Crumb the following year on a retrospective concert series of Crumb's music at the Angel Orensanz Foundation for the Arts in New York. He's also recorded Crumb's music on the Black Box label.
For the 2005 Cliburn, the list of newish repertoire looks like this:
Arno Babadjanian: Poem
Barber: Ballade, Op. 46 (1977 Van Cliburn Competition commission)
Samuel Barber: Sonata for piano, Op. 26
Bolcom: Nine Bagatelles (1997 Van Cliburn Competition commission)
York Bowen: Toccata, Op. 155
John Corigliano: Etude Fantasy (from four different competitors!)
David Del Tredici: Virtuoso Alice
Kenneth Leighton: Six Studies, Op. 56
Lowell Lieberman: Gargoyles, Op. 29
Gyorgy Ligeti: Etude Book 1 Nos. 1, 2, 5
The Cliburn was probably gratified that two of its past commissions were represented. It's even more remarkable that John Corigliano's Etude Fantasy was prepared by four different competitors. One wonders if the pianists were trying to ingratiate themselves with the competition organizers, since Corigliano serves on its advisory council (as do composers William Bolcom, Henri Dutilleux, Lukas Foss, and Stanislaw Skrowaczewski). But there was nothing cold and calculating about Joyce Yang's performance of the piece in the final rounds. She attacked it with a ferocious zeal and went on to win the Silver Medal.
The new music specialist among the 2005 competitors was the Italian Davide Cabassi, and it's gratifying to report that he made it all the way to the final round, though he did not take home a medal.
A burly bearded fellow, the 28-year-old Italian was easy to spot on the streets of downtown Fort Worth. "I love contemporary music," Cabassi told me one evening outside Bass Hall. "My favorite American composer is Frank Zappa." He went on to say that he's premiered many works by Italian composers and that he's also partial to Varèse, Corigliano, and Ives.
That being said, Cabassi's programming played it rather safe. In fact, Joyce Yang played more truly contemporary music with just one Corigliano piece. Cabassi's acknowledgements of the 20th century were Stravinsky's Trois mouvements de Petrouchka in the prelims, and Schoenberg's Six Little Piano Pieces, Op. 19 and Bartók's Out of Doors in the finals.
SELECTIONS FROM THE FIELD
The Van Cliburn Competition's departure from its 40-year tradition of commissioning a single composer for each competition came at the suggestion of John Corigliano prior to the 2001 competition. The Cliburn program book explains:
"Corigliano suggested a new initiative for acquiring original works from a broader range of talented composers, while involving the young performers themselves in the selection process… Believing that outstanding artists will choose outstanding repertoire, this innovative format encourages both the composition of new works and their inclusion in future performances."
The process begins with a nominating committee of composers, artists, administrators, and other music industry figures who recommend a slate of American composers to be invited to submit works for solo piano of between eight and twelve minutes in length. Nominees can send either a new work or a piece that has not been commercially recorded or received any major awards. This year, twenty-nine composers submitted works.
The next step is the review of the works by a professional jury, which can select up to five works for performance at the competition. This year's jury consisted of: composer Lowell Liebermann, composer Robert Maggio, and pianist Michael Boriskin. (Liebermann was the winner of the 2001 American Composer Invitational. The other composers selected that year were Judith Lang Zaimont, James Mobberley, and C. Curtis-Smith.)
The jury was sent blind scores (no names of composers) a few weeks prior to their meeting at the ASCAP offices on January 6, 2005. Corigliano was present at the meeting and pianist Stephen Gosling was also on hand to play selected pieces as needed.
Boriskin said the process was fun and encouraging. "I thought the initial selections were very well chosen and were pretty wide ranging, which was good to see. Everything from straightforward minimalist pieces to much more complex, sort of rigorous cerebral kinds of writing, and everything in between," he says.
"I think the first priority was coming to some kind of a consensus on quality… That was paramount concern for all of us… All other issues take a back seat to whether a piece can stand on its own," says Boriskin.
The jury's final selections were:
Sebastian Currier: Scarlatti Cadences + Brainstorm
Jennifer Higdon: Secret & Glass Gardens
Daniel Kellogg: scarlet thread
Jan Krzywicki: Nocturnals for solo piano
Ruth Schonthal: Sonata quasi un'improvvisazione
In late February, the five scores were sent to the 35 pianists who were selected for the 2005 Cliburn in order for them to make a selection and start practicing.
Note the subtleties of the rules. It's possible that a piece can make the jury's cut but not the pianists' cut. It's also possible that a piece can be selected by a majority of the 35 competitors but not win the final award because the 12 semifinalists had a different preference. And that's exactly what happened at the 2005 Cliburn.
Here's the selection of pieces by the entire slate of competitors:
| | | |
| --- | --- | --- |
| Ruth Schonthal: Sonata quasi un'improvvisazione | 1 | 3 |
| Sebastian Currier: Scarlatti Cadences + Brainstorm | 1 | 0 |
| Jennifer Higdon: Secret & Glass Gardens | | 7 |
| Daniel Kellogg: scarlet thread | | 4 |
| Jan Krzywicki: Nocturnals for solo piano | | 1 |
But here's how the semifinalists decided it:
| | | |
| --- | --- | --- |
| Sebastian Currier: Scarlatti Cadences + Brainstorm | | 5 |
| Ruth Schonthal: Sonata quasi un'improvvisazione | | 3 |
| Jennifer Higdon: Secret & Glass Gardens | | 2 |
| Daniel Kellogg: scarlet thread | | 2 |
| Jan Krzywicki: Nocturnals for solo piano | | 0 |
And Sebastian Currier is the winner.
"The interesting thing is the interdependency of the composers and the performers. It's symbolic and quiet nice," says Currier, of the process. "I notice Joyce (Yang) is playing the piece in Aspen. Hopefully the process of doing this will help it along."
Currier's winning effort combines two previously existing works that had not gotten much attention prior. Scarlatti Cadences had been written for his former wife, the pianist Emma Takhmizian, who was the fourth place finisher in the 1985 Van Cliburn. Brainstorm was written for pianist John Kamitsuka.
On composing his piece, Currier says "I didn't so much focus on virtuosity… The [Cliburn competitors] play so much stuff that's virtuosic anyway." Instead, Currier explained that his piece requires a more contemporary technique, especially in terms of rhythm and articulation.
PIANISTS AUDITION THE NEW WORKS
"I sight read through them and thought I'd have a lot of time, but [knew] Scarlatti Cadences is the piece for me," recalled Joyce Yang, shortly after the final awards ceremony. "Then I took a couple of months off from it. [But] it was a lot harder than I thought!"
Yang, who at age 19 was the youngest competitor, was the only semifinalist to have memorized Currier's piece. In addition to her second place medal, she also received the award for best performance of a contemporary work. She said the Currier was an obvious choice. "I read through the others and said, 'I don't remember anything I just read.'"
When the package of five new American works arrived, Ning An, 28 of Tennessee, got some help.
"It was a little intimidating because [there were] so many notes to read. I'd played ten concerts that month," he said. "I asked my wife [the pianist Gloria Chen] to read them for me. She's a fast reader. I read through them too, but she said, 'Chose this one [the Currier] even though it's harder to learn.'"
Jie Chen, a semifinalist from China, also chose the Currier and claims to like the idea of the Composer Invitational. But so far she's no contemporary music advocate.
"People now use different sounds and rhythms that don't have to be pleasing to the ear," she said. "Modern art challenges our traditional view of beauty—what is beautiful and what is ugly." Chen admitted that she's only got a limited amount of experience with contemporary works but that she did premiere a new piece once. She just couldn't remember the name of it or the composer.
It took only about 20 minutes for semifinalist Maria Mazo to pick Jennifer Higdon's Secret & Glass Gardens.
"I find it a brilliant idea that we could find one that fit our own tastes," say Mazo, 22, who hails from Germany and Russia. "My main concern was which fit in my program. My [semifinal recital] is very heavy, rather thick and loud. The Higdon was in a Scriabin style… a tonal piece, kind of a big, blurred sound, more chords and atmosphere which I found interesting."
Davide Cabassi also made his selection based, at least in part, on his recital. He chose the Currier's Scarlatti Cadences + Brainstorm because it compliments the three sonatas of Antonio Soler, which Cabassi had already prepared. Scarlatti was a teacher of Soler.
MIXING IT UP IN TEXAS
Hospitality has always been a big part of the Van Cliburn's Texas ambience, so it's no surprise that the competition invited all the composers down to hear the semifinals. Only Higdon, ensconced at an artist colony in Italy, was unable to attend.
"It was interesting for all of us, because we had not been in contact with the players," says Daniel Kellogg. "So these people playing our pieces had to learn just from the score and in the midst of preparing other repertoire. The players were young and had not done a lot of other [contemporary] stuff."
Though young himself, Kellogg, 29, listened to the contemporary performances with the ear of a seasoned composer.
"The variety of performances [of the new works] was wide. There were people that did excellent jobs and people that had clearly put this off and weren't up to performing the piece. They hadn't learned it and hadn't understood the musical language," says Kellogg. "It was in the second round and putting work into the second round is worthless if you hadn't gotten past the first round."
The public got a chance to meet the composers and hear them speak at a panel one morning in the midst of the semifinals. The forum included a performance of Jan Krzywicki's piece, since it wasn't represented in any semifinal recital.
The composers were also represented at the Cliburn gift shop in the sparkling marble lobby of Bass Hall. Alongside CDs of Van Cliburn and of past winners, and lots of jewelry, t-shirts, and baseball caps bearing the competition's logo, there was an attractive display of the scores in the American Composer Invitational, plus the Bolcom and Gould scores from past years. These were the only pieces of sheet music available and about 90 copies were sold by the end of the competition. "Several people brought scores and asked us to autograph them," recalls Kellogg.
As living composers, Currier, Kellogg, Krzywicki, and Schonthal might have been oddities in the Cliburn atmosphere where pianists are the stars and composers are mostly dead men. But ultimately they too got caught up in the excitment of watching and listening.
"There's a lot of serious listening going on, and fabulous repertoire in a great hall," says Kellogg.
"It's very intense," says Currier. "There's like three or four concerts a day, and the amount of work these young, extremely talented pianists have to do is awesome and totally amazing."
CODA: NEW MUSIC AT OTHER PIANO COMPETITIONS
Consider the pressure to succeed with new music at the Queen Elizabeth Competition in Brussels. There are compulsory new works for both the semifinal and final rounds—which includes a concerto that's given to the players only after their arrival at the competition.
"A commissioned concerto you have to learn in a week!," recalls Ning An, the Van Cliburn semifinalist who placed third at the 1999 Queen Elizabeth. "That's the test, to see how well you learn. They separate you into a big house, no newspaper, no TV—the loneliness!—no teachers, parents, wives…"
And for complete and total immersion in new music, there's the Orleans Concours International in France, which is devoted exclusively to 20th century piano music.
Among the crowds that turned out for the dozens of concerts that make up the 2005 Van Cliburn Competition was a tall, quiet Dutch man, Gustav Alink. He's the world's expert on piano competitions. Alink heads the Alink-Argerich Foundation, a sort of professional association of piano competitions, which publishes a directory of the events and is building a database of pianists.
"If you look at all the piano competitions worldwide, most have quite average repertory requirements," says Alink. He admits to having been skeptical four years ago of the Cliburn's American Composer Invitational. "But it convinced me," he says now. "New music and fine performances—it doesn't happen too much."
Perhaps the Cliburn has struck about the right balance of new music—certainly it's not enough to please new music advocates, but it's not beating the pianists over the head with it either.