One day he decided that his liking for poetry could not be fully expressed in just reading poetry or listening to poets reading on phonograph records. He decided to take the plumbing out of his house and completely replace it with poetry, and so he did. He turned off the water and took out the pipes and put in John Donne to replace them. The pipes did not look too happy. He took out his bathtub and put in William Shakespeare. The bathtub did not know what was happening. — Richard Brautigan, "Homage to the San Francisco WMCA"
Anyone who knows me even casually knows that I am a voracious record collector; I've never done an exact tally, but in my 1000 square-foot NYC apartment I now probably have well over 20,000 recordings on either LP or CD. Composing music is probably the only voluntary thing I've done for a longer period of my life than record collecting. (Eating, sleeping, breathing, etc. are things I've done even longer, but they're not a matter of choice.) So admittedly, since amassing recordings is something that at this point is as natural to me as my involuntary metabolism, I have not been terribly enthusiastic about the prospect of physical recordings becoming unwanted relics of the past. Even though there have been rumors that the major record labels will be discontinuing the production of physical recordings as early as next year, it's difficult to imagine that there won't always be a devoted market for the corporeal stuff that entrepreneurial independent labels will continue to service. After all, there are companies that are still pressing vinyl and folks (myself included) are still buying it.
But I must opine that as someone who has collected recordings for over 30 years at this point, the chorus of Cassandras announcing an irreversible format shift sounds surprisingly familiar. In the 1980s, when CDs were touted as the greatest evolutionary step in recorded technology, all the pundits jumped on the bandwagon to denounce LPs. I was a relative newcomer to record collecting at that point (I was only a teenager), but I had already amassed enough LPs to think they were pretty wonderful things and thought most CDs sounded impersonal and sterile, so I didn't buy in. Ironically, the "death of the LP" helped me to acquire tons more vinyl at a fraction of its original value as stores depleted their entire LP stock and folks who were obsessed with keeping up with the trends discarded their LP collections for a pittance in order to replace them with state-of-the-art CDs. I have a smile on my face every time I read a report that LP sales have been soaring almost thirty years after people were supposed to stop listening to them forever.
Eventually, albeit reluctantly, I gave in to CDs (at some point in the mid-1990s) when so many recordings started appearing that were not available through any other means. After a while, I even came to believe that aspects of digital recording were beneficial to some repertoire, e.g. the number pieces of John Cage and the late massive works of Morton Feldman (both in order to clearly hear the very low volume of it, as well as to hear an entire piece without having to flip sides). I now have as many CDs as LPs; each cover opposite entire walls in the largest room of my apartment—a constant reminder of the face-off between analog and digital technologies.
But if the self-appointed prophets of tomorrow prove to be incontrovertibly correct, in all likelihood I will probably one day have to give in to amassing future recorded music on my computer's hard-drive, but only if I have absolutely no other option. However, I already can foresee the pitfalls of such a plan. I won't even get into the argument that most music files currently disseminated without a physical carrier sound pretty awful when compared with CDs. (Remember I think LPs still sound best for most—though not all—music; if a recording is available on both CD and LP, I'll usually try to track down the LP.) I actually think there is even a bigger problem. No matter how large a hard-drive I would get to store music on, I will inevitably fill it up. Before long my entire apartment would turn into piles of daisy-chained hard-drives. I contend that such a mess of anonymous-looking plastic would be far less attractive than my inviting shelves of carefully arranged LPs and CDs. And forget about my ever using a device like an iPod. For starters, the Walkman was never particularly appealing to me. (I prefer hearing the sounds around me when I am not at home focusing on what I am listening to.) I would never be able to decide how to fill such a device's hopelessly tiny storage space (remember I have 20,000+ recordings). And the enforced obsolescence of irreplaceable batteries convinces me that my money is better spent acquiring additional recordings than constantly replacing the device on which I listen to them.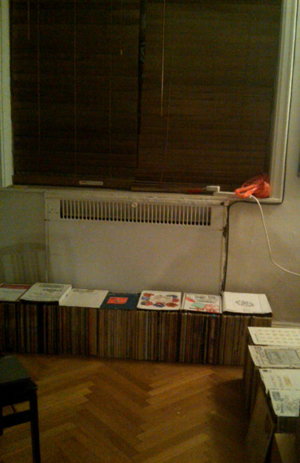 All that said, I know only too well that apartment space has its limits, too, especially in New York City. A couple of years ago, I ran out of shelf space on my opposing walls. There is room on one of them for one more shelving unit, but that means I will need to find a new location for my turntable. Over the holiday weekend, a friend helped me get rid of the couch that covered the lower portion of the wall joining the walls of LPs and CDs; this is the wall that has the room's one window. (That window was how many of those recordings first arrived in my apartment when I moved into it ten years ago.) While eliminating the couch means that there are now fewer seating options at home, there is now some additional and much-needed space for recordings. But this too is finite. Unlike a music critic who faced a similar dilemma some years back and opted to cover his window with additional shelves, I have no plan to shut out the outside world that way. That would be going too far, even for me. After all, John Cage preferred the serendipitous sounds that came through his open window to anything contained on a fixed recording. The window represents possibility, the future, the real world, that which can never be captured on any kind of recording, much less on a computer.