Inspiration exists, but it has to find you working.
—Pablo Picasso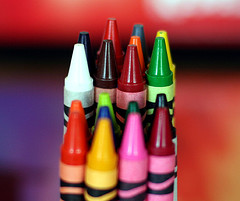 That is hands down one of my all-time favorite quotes. If I were a tattoo-oriented kind of girl, I would probably have it inked onto my hand. Preferably in the original Spanish.
It seems like there has been a recent upsurge in books, articles, blog posts, and assorted media content geared towards jump-starting personal creativity. Although this perception could very well be related to the websites I tend to visit and/or the mailing lists I subscribe to, I still feel like the quantity of this content has increased dramatically.
As someone who is extremely interested in the nature of creativity, I very much enjoy reading this stuff. I think it serves as a window into our cultural values as they relate to creativity. This
was probably the first book I read devoted exclusively to the topic (honestly I found it a bit froo-froo for my taste, but many people swear by the exercises, so whatever works!), and although I have not tackled anywhere near the many that are currently available, this one
caught my visual learning eye. I like it because whether or not you physically write down answers to the questions, the questions—with big blank thought bubbles around them—do make you think.
I wonder what is causing this new self-help flood. Is it due to the economic downturn of recent years, during which time people have lost jobs and income, and perhaps feel there is nothing to lose when it comes to trying something risky and "outside the box?" Or is the U.S. in a creativity crisis? Considering the radical cuts to arts education and funding, this would not be surprising. These books and ideas can be truly helpful for a lot of people. Sometimes a shot of inspiration delivered by another artist, or even just approaching an everyday action from a different angle is exactly what's needed to light the creative fire. However, I wonder about the implied messages they send. For instance, that creativity is special, and you probably don't have it. That's why you need this book. Even the books assuring us that creativity is not magic and that anyone can unlock it are wielding all kinds of assumptions. When did it get locked up, anyway?
Personally, I blame a mixture of the pressures of adulthood and the 19th century. Somewhere in there, for a ton of people, creativity became compartmentalized; separated from daily life and as such, an unapproachable luxury for many.
To add to the confusion, abundant creative thinking is expected at every turn in many workplaces. Job descriptions want "innovative thinkers" at many different levels. So if these self-help manuals are to be believed, innate creativity is something we don't normally have, and yet we are supposed to be cornucopias of new ideas on the job. What?
No wonder all these books are selling like hotcakes! As interesting and inspiring as they may be, they can become diversions from the task at hand—making something. I think Picasso had it right in his belief that ultimately, creative acts come from, well, action.