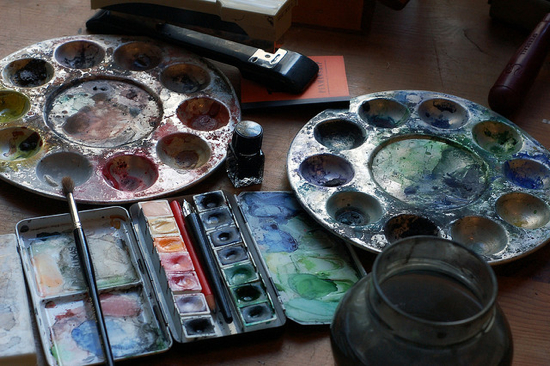 I'm currently a bit obsessed with the upswing in available information related to creativity that has taken place over the past couple of years. Lately I feel as if the swell has become even larger, with a huge inflow of books and websites devoted to the why and how of creative process and creative thinking. I have a dedicated "creativity" section within my RSS reader, and I do admit that I look forward to reading what has landed there over my morning coffee. Much of this information is targeted towards the "modern creative" (yes, it is increasingly used as a noun), focusing upon writers of all kinds, as well as assorted shapes and sizes of entrepreneurs and other people who specialize in idea-forming within a professional context. Much of this information is very relevant to composers and musicians, despite the fact that they are rarely included in the conversations.
What caught my eye this week was a Slate article about how a lot of people don't actually like creativity at all. For instance, despite all of the job announcements that state an urgent need for creative, out-of-the-box thinkers, innovators, and so forth, the people who win those positions often have their original ideas rejected time and time again. As University of California-Berkeley researcher Barry Straw states, "We think of creative people in a heroic manner, and we celebrate them, but the thing we celebrate is the after-effect."
In part, the issue is that when people say they want creativity, they often already have expectations—conscious and/or unconscious—about what the results might look like, and if an idea does not fall within the boundaries of those expectations, chances are it's going to be squelched. Examples of this phenomenon exist throughout the art world, in the way some organizations are run, in the opportunities certain artists do or do not receive, and so forth. The outcome of the ideas may indeed be truly desired, but the discomfort and cognitive dissonance of bringing an idea to life involves change, and change can be hard. For many, it's more than they can tolerate.
Anyway, I'm not totally buying some of the information that is out there, such as the subtle implication that creativity can be turned on or off like a sink faucet, or segmented in some way from the other aspects of one's life. While it is indeed fun and inspiring to read about the daily rituals of artists, I think it takes a lot more energy and patience than cherry-picking the methods of others to figure out how to make your own art. I believe it takes a long time spent, well, making your own art and, through that process, finding out who you are and what your creative voice sounds/looks/feels like. One of my heroines of creativity is Pauline Oliveros, who has been dedicated to living her entire life in a creative manner. From the clothes she wears to how her home is arranged to the composition she is working on to how she runs her organization, it's all one big creative act, and she is constantly tapped in, walking her talk. Needless to say, a lot of people and organizations haven't liked this at all over the years, but she has consistently found her own path around obstacles, stayed true to her vision, and brought extraordinary projects to life. She can also always be counted on to ask pointed questions that elicit new and unusual ways of thinking about sound.
I can't help but wonder, why is all this material about creativity coming out now? The information itself isn't new, but there is so much discussion of it all of a sudden. Are there just more and more people who feel creatively unfulfilled out there searching for meaning? Is it somehow a reaction to technology and social media? Is it related to the diminishing arts programs within our educational system? Will it be helpful in the future to those whose educations have not necessarily fostered creativity, but who are nevertheless expected to produce original results at their places of employment, or to people who want to take up a creative pursuit later in life?