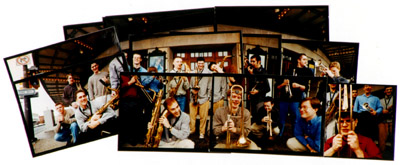 Eastman Jazz Ensemble
Photo courtesy of the Eastman School of Music
The Eastman Jazz Ensemble and the University of Wisconsin-Eau Claire (UWEC) Jazz Ensemble I took top honors in the collegiate level jazz big band division of the 24th Annual Down Beat Student Music Awards. Both ensembles are veterans to the award, Eastman having won the award four times in the past six years and UWEC being recognized in 1996 and 1998 for their excellence as an ensemble.
Founded in 1978, the Down Beat Student Music Awards, or the DB's as they are affectionately referred to by some, recognize the top jazz ensembles, choirs, soloists, composers and arrangers from educational institutions ranging from the middle school to the collegiate level. Nine judges evaluated the participating groups based on a number of performance criteria including overall sound, proper interpretation, improvisation, creativity, intonation, phrasing and dynamics. Selected from a competitive talent pool, winners must demonstrate a distinct voice in addition to technical proficiency.
The Eastman Jazz Ensemble, now directed by faculty member Fred Sturm, used to be completely run by student musicians until Chuck Mangione became the ensemble's first faculty director. In addition to their award for best college big band, Eastman graduate student Jamey Simmons took home the award for best jazz arrangement for his version of "The Man From Tanganyika."
The ensemble has been featured at festivals and concert halls around the world and Down Beat recently invited some of Eastman's best students to perform at the JVC Jazz Festival. They performed on June 19, 2001 in New York City's Bryant Park. An Eastman "Jazz Performance Workshop" honors section coached by Harold Danko was featured on a program along with the Berklee School of Music Jazz Ensemble and the Milwaukee High School of the Arts Jazz Ensemble.
MP3 Sample: Eastman Jazz: Take It All.
Jazz Ensemble I, directed by Robert Baca, from UWEC has the Roman numeral following it because it is one of four big bands that are faculty directed. In addition, UWEC has a large combo program and offers an array of courses to prepare students to go into careers as jazz performers and educators. All UWEC Jazz Studies Area participants receive an education balanced between classical and jazz training, although there is no major or graduate program that only focuses on jazz.
Drummer Adrian Suarez received recognition for an outstanding as an outstanding soloist in this year's competition. Director Robert Baca said of the award the first time they won it in 1996 that the award was really like winning a Grammy for a music educator.
With Juilliard jumping on the jazz bandwagon with their new Juilliard Institute for Jazz Studies, it has become obvious that jazz is moving with great momentum into a period of excitement and growth.