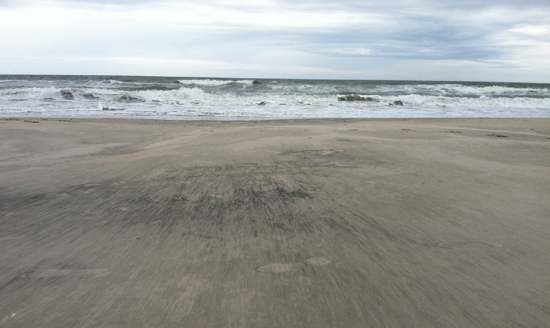 I spent most of my formative years dividing my time between Los Angeles and Idaho. The jagged mountain peaks and ocean waves of these Western landscapes shaped my ideals of natural beauty. As an adult, I've lived exclusively in the mid-Atlantic and the Midwest, which has forced me to begin to reconsider my relationship with the world around me.
While there are mountains above 5,000 feet in the middle of the city of Los Angeles, the highest point in the entire state of Illinois (where I lived for over a decade) is actually the top of Chicago's Willis (formerly Sears) Tower. I've compensated by spending more time looking closely at the subtle details around me, learning to distinguish between the behavior of the various bird species found in my local parks and nature preserves, teaching myself to cherish my sightings of warblers the way I formerly treasured mountain tops. I've replaced the Pacific vistas of my youth with the more confined aesthetics of lakes, bays, and rivers.
These new obsessions have largely filled my need for natural beauty, and have shaped much of my music from the past several years; however, I recently began to feel hemmed in by the world around me. After a great deal of thought, I realized that this visceral sensation derived from my lack of recent exposure to wide open spaces. Since the Eastern U.S.—with its older and more rounded hills—has no mountain peaks that remotely replicate the youthful terrain of the Rockies, the Sierra Nevadas, or even the Los Angeles Mountains, I quickly settled on the idea of a vacation on the Atlantic coast.
My recent week staying on the island of Chincoteague, with daily trips to the neighboring Assateague Island National Seashore, alleviated all the pressure that had been building for many years. I was calmed by the mere act of standing on the coast looking out into waves with the knowledge that this vista extended as far as Portugal. I sensed my horizons expanding, recalibrating back to their original settings.
I am uncertain how this period of personal renewal will change my compositions, or even whether it will have any effect at all. But I am hopeful that this releasing of what has functioned as a pressure valve within my life will allow me to reconsider some of my recent musical obsessions. And since the ocean visit was so effective for me, I'm starting to plan towards a mountain trip as well. Hopefully, I will be able to keep this sense of expansiveness and boundless horizons as an active part of my life.