I made my way to Club Deluxe twice this week, once on Tuesday and again on Wednesday. I'm happy to report that pizza is back on the menu. I had their basic sausage pizza and was, once again, transported back to an inner world where I reign as King Ratzo!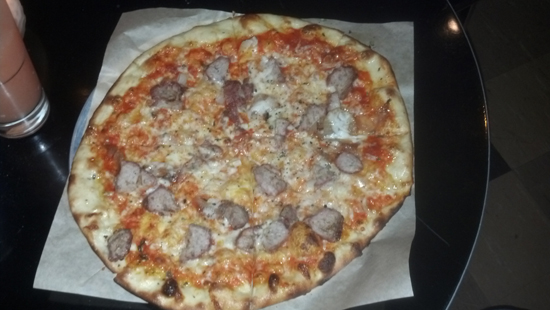 The walk from where I'm staying to Club Deluxe includes a three-block stretch of Haight Street, the thoroughfare made famous during the Summer of Love in 1967, when the Haight was home to a population of vagabond youth who had become disenchanted with the way their parents' generation was tending to the affairs of the world. For a while everyone seemed to be living the life of Byron; but, like Lord Byron's life, the mood was cut short as the musical rage—psychedelic rock—became another product for the Great American Culture Machine to mass produce. The marketing strategy employed by the GACM was, at the time, Orwellian. In 1969, for instance, the rumor that the bassist for the Beatles, Paul McCartney, had died began to circulate in the press. The controversy about whether or not it was true culminated in television documentaries and talk-show debates. It was around this time that guitar legend Jimi Hendrix (whom McCartney insisted appear at the celebrated Monterey International Pop Festival in 1967) performed on The Tonight Show. Bassist Noel Redding had quit and Hendrix's army buddy, Billy Cox, had taken his place, but drummer Mitch Mitchell wasn't available to play that night and the Tonight Show house drummer, Ed Shaughnessy filled in for him.
On May 24 of this year, Ed Shaughnessy passed away at the age of 84. Although he enjoyed an active career, playing with the likes of Count Basie, Charles Mingus, Benny Goodman, Billie Holiday, Tommy Dorsey, and Duke Ellington, Shaughnessy played for The Tonight Show almost exclusively for 29 years until host Jay Leno replaced Johnny Carson. (Leno's Tonight Show band featured drummers Jeff "Tain" Watts and Marvin "Smitty" Smith.) For many television viewers of my generation, the drumming of Ed Shaughnessy was part of their workweek ritual and supplied the cadence that marked the end of the day. Shaughnessy's passing is part of the end of an era in American culture, one that included the idea that a team of 18 well-trained and practiced artists was a normal music ensemble. Most Broadway shows today employ less than that and at a recent performance of Philip Glass's "opera/film" La Belle et la Bête, I remember counting only 13 performers. But Shaughnessy was more than just a great all-around drummer who could whip a big band into line. His solos were on a par with any of the "big boys" of his day, and he even went one-on-one with drum god Buddy Rich. Ed Shaughnessy's passing was well reported, even though his position as a television show drummer will leave him under- (as well as over-) rated.
This won't be the same for pianist Mulgrew Miller, who passed away on May 29. Miller came up working for vocalist Betty Carter, trumpeter Woody Shaw, and drummers Tony Williams and Art Blakey, all artists who are revered for the musicians they brought to the fold as well as for their own artistry. Miller was the kind of pianist who could play well in any situation and excelled as an accompanist as well as a bandleader. In February of 1992, Newsweek identified Miller as part of the generation "caught in the middle"; a group of musicians too old to be considered "young lions" and too young to be called "living legends." But by 2012 Miller had proved himself to be the stuff musical legacy is built on. At the age of 57, with over 500 albums to his credit, Miller had become an established master of the instrument and the music he played. I had the honor of playing with him several times and will add that he was one of the nicest people I've ever known. He will be honored with a concert on June 22.
Another 57-year-old pianist/percussionist/radio personality/community activist, Ibrahim Gonzales, passed away in his sleep on Tuesday. We played together in the Lehman College Latin Jazz Band in 2002. Like Miller, Gonzales was a great person who was always generous with his encyclopedic knowledge and his limited time. I used to listen to his Sunday afternoon shows on WBAI, which were always interesting, informative, and filled with great music. He, like percussionist Bobby Sanabria, was a moving force in American music and was rigorous in his research and how he used it. People like Ibrahim will leave a hole in the music community that may never be filled, only because he is irreplaceable; his legacy can't be overstated. (More information about Ibrahim can be found here.)
On a personal note, though, the news that struck me the most was hearing about the death of bassist Ben Tucker at 82. Tucker is a name that very few know, but his influence on music is far reaching. He is one of those musicians who could, and would, play with anybody, and do it well. I first heard about him when I was in high school (1970) and had been approached to play with pianist Federico Cervantes. Federico was a virtuoso pianist in the mold of Oscar Peterson, but blind, so his girlfriend brought me to his apartment for my audition. We played for about an hour, with him just playing and me trying to keep up. During our first break, I looked over to where his record player was and noticed an album cover with a photograph of someone who looked like a younger version of Federico, but the name listed on the album was Freddie Gambrell. I asked Federico if that was him and he told me that it certainly was, but he didn't use that name, which was suggested by the producers of the album. The only other name on the record was Ben Tucker. I asked Federico who was playing drums on the record and he told me that it was just piano and bass. I thought that was a strange thing to do, not to have a drummer (I had yet to move to New York City, where it's commonplace), but I kept an open mind and listened to the album when I got home. (Federico loaned it to me.) I was amazed at Tucker's fluid phrasing and big sound. At our next rehearsal, I pumped Federico for more information about Ben Tucker. He told me that he had lost touch with him and didn't know anything of his whereabouts. Over the years I saw Tucker's name on a lot of records, most notably playing with Mose Allison, Grant Green, Mark Murphy, Herbie Mann, Kenny Burrell, and Art Pepper, but nothing current. When I began working with Mose Allison, I asked him if he knew anything about the bass player who was on one of his recordings (The Word From Mose), but Mose came up with a blank, too. It was only when I received word of the accident that happened on Tuesday (he was driving his golf cart and a car driving at a high speed ran into him) that I even knew he was alive until then. I went online and found a partial discography for him and learned that he recorded with Chris Connor, Kenny Dorham, Billy Taylor, Bob Dorough, Warne Marsh, Art Pepper, Willis Jackson, Dave Bailey, Jimmy Smith, Gerry Mulligan, Pat Martino, Dexter Gordon, Roland Hanna, Gill Evans, Yusef Lateef, Bola Sete, Harry Babasin, Chico Hamilton, Teddy Edwards, Carl Perkins, James Moody, and Cy Coleman as well as the five listed above. What's more, he had moved out of Los Angeles to Savannah, Georgia, where he kept playing regularly, but locally. He recorded a few albums as a leader for the Sweet Thunder label, which I assume is his own label, and has lived well off of the songs he wrote over the years. One of them, "I'm Comin' Home, Baby," is a tune I used to play and hear at dance parties all through my childhood. Learning this gives me hope!
As for going down to the nightclub…
Since I moved to New York, the Haight has morphed from a place to buy drugs and to party into a "gentrified" neighborhood where its merchants turned the hippie's and Digger's hoop-skirt-and-construction-boots style into something fashionable for tourists who come to see where "Flower Power" took place. However, the economic downturn of 2007 that inspired the Occupy Movement has brought the nightlife of Haight Street full circle, but with prices adjusted for inflation. I walked past people's beds and kitchens, objets d'art placed on the sidewalk as makeshift galleries. When I got to Club Deluxe, the same band was there as last week. I thought about how their pedagogical experience doesn't include school dances where the music included Herbie Hancock's "Watermelon Man" and Lee Morgan's "The Sidewinder" as offerings to listen to while the girls danced with each other (because the guys were too chicken). Instead of listening to the likes of Freddie Hubbard, James Spaulding, and Horace Silver playing extended solos as part of one's mainstream social life, one now gets to hear eight-measure guitar shreds as examples of cultural inspiration and creativity. But the musicians at venues like Club Deluxe are coming up with some pretty good stuff, despite our best efforts.