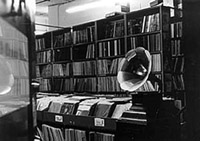 In November, for the first time in my life, I flew from New York to California. Despite many trips across the Atlantic, I had only been west of Chicago once. So it comes as no surprise that I was absolutely fascinated watching the landscape go by: Appalachia, Detroit, Chicago, the never-ending plains, Denver, the Rocky Mountains, Zion National Park, Red Rock Country, the Grand Canyon, Las Vegas (where I had a one hour lay over), the Redwood Forests, and finally, the Pacific Ocean and San Francisco. For over six hours, I stared out the window, completely enamored by the silent beauty below me. Perhaps I am falling prey to banal media-driven, government-sponsored "wartime" patriotism, but I prefer to think that I was enchanted by something I had never seen before: my country.
Once I was back in New York, facing a desk full of CDs that needed attention and forum posts chastising NewMusicBox for only covering a few small geographic regions, I became very interested in where all of this music was coming from. Despite our critics, I found that 25 states are represented among the 31 CDs featured this month, which feature an equally diverse range of influences and sounds. Of course, who would expect anything less, considering the contemporary musical aesthetic is eclecticism?
A city that never sleeps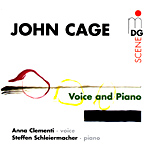 Voice and Piano Music: John Cage
The starting point for my trip was New York, so I am going to start this essay with a run down of New York "happenings," starting appropriately with a disc dedicated to the piano and vocal music of John Cage. Although a native of Los Angeles, Cage wrote the majority of these pieces in New York City. However, don't let the simple title fool you; Cage had an aversion to traditional song writing, so the piano and voice never perform at the same time, unless the piano is being beaten like a drum. For a portrait of historic Broadway, check out two under-appreciated, light-hearted musicals by the late George Gershwin—Tip-Toes (in collaboration with his brother Ira) and Tell Me More (with Ira and B.G. DeSylva). Or move a few decades ahead and immerse yourself in Bernstein's first two symphonies, titled Jeremiah, a denunciation of the Nazi persecution of the Jews (written in 1942), and The Age of Anxiety, which traces the evening of four friends who attempt to work through their various sexualities. Of interest to this issue of NMBx, the latter contains a dirge opening with a 12-tone line!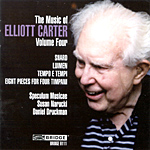 The Music of Elliott Carter
New York pillar Elliott Carter turns 93 this month (on the 11th), so celebrate with some cake and the fourth volume in Bridge's ongoing series, The Music of Elliott Carter, featuring the talents of Speculum Musicae and some bizarre instrument pairings including an ode to plucking for harp, mandolin, guitar, vibes, trumpet, and trombone called Luimen. For some stark contrast to Carter, pop in a recording of former New York City cab driver Philip Glass's early piano music, an artifact of minimalism including Two Pages and the Cagean One+One, where the piano is tapped rather than played. Another New York-based superstar, Billy Joel (born in the Bronx, raised on Long Island), is dabbling in the classical idiom and his Elegy: The Great Peconic found its way onto a CD benefiting the American Cancer Society entitled Music of Hope.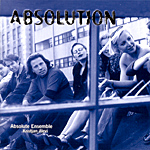 Absolution: The Absolute Ensemble
Meanwhile, American expatriate (he is currently at the American Academy in Rome)/former Brooklyn resident Derek Bermel's multicultural piece for solo piano titled Turning, along with 12 etudes by his teacher and long-time Michigan inhabitant William Bolcom. Also among the younger generation of New York composers, Denman Maroney's piece Par 3 for "hyperpiano"—strumming, striking, and bowing the piano with copper bars, mixing bowls, sheets of rubber, and other household items—appears on Absolution, a new disc by downtown staples, the Absolute Ensemble. Or if you prefer pre-Giuliani Times Square style, New York sound designer and smutty website entrepreneur, Joe Gallant (and the Illuminati) has a new recording of jazz, noise fusion that uses everything from violins to horns to the Hammond B3 and computers.
East Coast tunes really knock me out…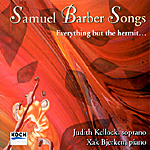 Songs of Samuel Barber
Across the river from the New York, people may sleep, but they still compose music! In New Jersey, James Adler created Memento Mori: An AIDS Requiem, to commemorate the friends and colleagues he has lost to this disease. The piece takes the form of a Roman Catholic requiem interspersed with Hebrew texts and poignant poetry and prose by writers affected in some way by AIDS. Leaving this homage behind, we continue westward into Pennsylvania, where we find three composers who couldn't be more different from one another. Native Pennsylvanian John Philip Sousa is probably the most prolific composer of patriotic music in American History. Many of his famous marches were written in support of the US war effort during World War I, such as Bullets and Bayonets, Wisconsin Forward Forever, and Solid Men to the Front, all included on the second volume of his Music for Wind Band. Also born in Pennsylvania and spending a great deal of time in this state was Samuel Barber and although his Adagio for Strings has become an orchestral standard, especially in light of our current military conflict, this CD focuses on his songs for soprano and piano, exploring the intimate relationship that Barber had to poets and their texts. Included on this recording are lovely settings of the poetry of Joyce, James Stephens, Robert Graves, Theodore Roethke, and Robert Horan. Pennsylvania's multiple personalities are confirmed with the work of Pittsburgh-born Billy Strayhorn, whose jazz standard appears revamped and given new, well, Lush Life, when performed by oboe, bassoon, clarinet, bass clarinet, and sax, played splendidly by the Calefax Wind Quintet.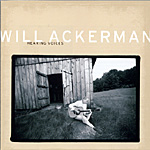 Hearing Voices: Will Ackerman
Further astray into the wild land of…New England, we come across two more recordings, one from Vermont and one from Maine. Will Ackerman's fusion of world music and New England-style folk guitar uses multiple languages and performers. Listen and pretend you're frolicking barefoot around the Green Mountains in the summertime. Further north, in the eastern most state of Maine, the Tim Janis regime has its headquarters and his new recording, An American Composer in Concert features music inspired by the New England landscape. According to his Web site, he is "perhaps one of the most successful independent musicians in the history of the music business."
Whistlin' Dixie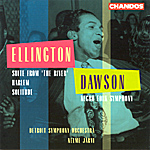 Negro Folk Symphony: William Dawson
If you aren't into the cold, crowded Northeast, we can travel down south and find a hodgepodge of music claiming its roots south of the Mason-Dixon line. A Tennessee émigré (Benjamin Boone) combines talents with a German immigrant (Stefan Poetzsch) in the Transatlantic Reed-String Project that was formed in Florida of all places through a midnight improv session. Primarily improvisational in nature, the music acts as an intimate cross-cultural dialogue about such topics as HMOs (I didn't know they had those in Germany…), peace, and the Trail of Tears. Next door in Kentucky, Michigan-native James Curnow contributed a string quartet inspired by the poetry of John Keats to a recording by the Society of Composers, Inc. titled "Inspirations", which also features music by Lori Dobbins (California), Keith Kothman (Indiana), Steven Everett (Georgia), Chihchun Chi-sun Lee (Kansas), and Paul Rudy (Missouri). The styles are as diverse as the places with Dobbins' piece for soprano and percussion and Lee's work for traditional Taiwanese silk and bamboo ensemble. Also in the vicinity is George Crumb's home state of West Virginia. Get your copy of Volume 5 of Bridge's Complete Crumb Edition, highlighting his piece Easter Dawning, an octatonic-scale piece for carillon. Two different versions appear on the recording. And if you want to go deeper into the South, be sure to listen to Mississippian William Dawson's 1934 Negro Folk Symphony, which elaborates on hymns, folk songs, and spirituals of the South. Also billed on this recording is Duke Ellington, who was born in our nation's capital.
And the waving wheat, it sure sounds sweet…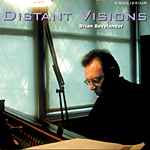 Distant Visions: Brian Bevelander
The Midwest is a bastion of compositional creativity at the moment. We already heard some of them on recordings with composers from other regions, but there are more! I swear! The ambiguous state of Ohio (Midwest, Northeast, Mid-Atlantic, Great Lakes, what is it??) is represented this month by pianist, composer, and Ohio-resident Brian Bevelander, whose new recording, Distant Visions, fuses electronics with acoustic instrument in a seamless fashion. On the other end of the Great Lakes, in Minnesota (to be pronounced Minnisohda), Carl Witt is lending his talent as a pianist and a composer on Visionary Duos, a varied collection of contemporary duets for flute and piano. Then further south in Oklahoma, not only are they "gonna give you carrots, barley, and potaters," they're also going to give you some great music! For example, three string quartets by Kenneth Fuchs, the first guided by the collages of Robert Motherwell, another inspired by the poetry of Walt Whitman, and a final one based on nothing but the music itself. How novel. Moving into Oklahoma Past, we find out that Roy Harris, composer of music celebrating the "Great American West" was born near Chandler, OK. His hefty Seventh Symphony appears on a recording alongside his New York City-born pupil William Schumann.
Mama don't let your babies grow up to write bad music…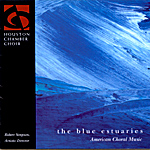 The Blue Estuaries: David Ashley White
Despite the stereotypes of gun-totin', rodeo attendin' cowboys, Texas and the Southwest have a well-established musical infrastructure. Lifelong Texan and composer Fisher Tull (great Texas name!) is remembered by his adoring friends on a new CD, featuring works that span the duration of his career, including Nonet for Winds, Percussion, and Piano, which combines 12-tone theory with chance creating quite a feast for the ear. In addition to Fisher, the Houston Chamber Choir presents The Blue Estuaries, a collection of American choral music, including music of three Texans: Robert H. Young, David Ashley White, and Rob Landes. Also among the 11 pieces showcased are songs by American folk music guru Stephen Foster, Aaron Copland, and a variety of traditional tunes, all sung beautifully and not too saccharine in their patriotism. Inching to the west, we tackle (and rope…) New Mexico. Here lays the home of Michael Udow, percussionist and joint composer (with Christopher Watts of Washington state) of The Contemporary Percussionist, an aural companion to the book of the same name. It consists of 20 multiple percussion recital solo etudes, which are a pleasure to listen to even without the book and an incredible resource for a young percussionist. (Christmas present, perhaps?)
Be sure to wear headphones in your hair…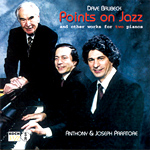 Points on Jazz: Dave Brubeck
Nestled in the Rocky Mountains and host of the 2002 Winter Olympics, Salt Lake City, Utah, is also home to composer Marie Baker Nelson, whose sensuous, delectable Culinary Concerto for Clarinet appears on a recording of concertos performed by clarinetist Richard Stoltzman. Once through the mountain passage, the golden land of California greets us with music from native-Californian and jazz legend Dave Brubeck, whose works for four hands remind us that neither classical music nor jazz have developed in a vacuum. In addition, the symphonic music of movie/opera/Broadway composer and former Beverly Hills resident Louis Gruenberg is the focus of a new recording spotlighting his Symphony No. 2 and his tone poem, The Enchanted Isle. Nothing says California like the expansive, romantic lines of Gruenberg.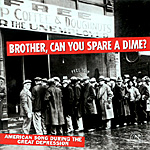 Brother, Can You Spare a Dime?
Feeling strangely sentimental about America? Take a listen to American Anthem featuring such patriotic hits as America the Beautiful, Shenandoah, and The Battle Hymn of the Republic. Bonus for this disc: it does NOT include Proud to Be An American. And finally, this essay will end in honor of our In the First Person interviewee, Milton Babbitt: a recording of popular music from the Depression Era he'd be sure to love called Brother, Can You Spare a Dime?, including Lew Brown and Ray Henderson's Life is Just a Bowl of Cherries. Advice we should all heed during the stressful holiday season and our "recent" economic recession.