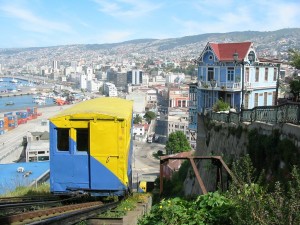 This time next week, I will be riding up and down the historic ascensores in Valparaíso, Chile, as part of a six-destination trek through three countries in South America—Chile, Argentina, and Uruguay—all in less than two weeks. It will be a mad scramble from place to place in an attempt to visit as many art museums and historic sites, sample local food and drink, and bring back as much sheet music and as many recordings from that part of the world as I can possibly find and fit in my suitcase. This is my idea of a vacation!
Experiencing something completely new is an endless source of pleasure for me. My wife has never been to the continent of South America at all, so it's potentially an even bigger deal for her, but I'm also thrilled that I will be in three countries that I have never visited before. However, this trip has required a remarkable amount of precise planning, just to make sure everything lines up—various flights, buses, hotels, and on and on. So the beautiful irony of this trip is that, even though we have never been to any of these places and therefore don't quite know what we will be experiencing, I can pretty much give you a play-by-play of where we will be every day.
Such a combination of precision and uncertainly perhaps seems perfectly natural to me since my life is centered around the making and experiencing of new music, which is pretty much the same thing, isn't it? When composers are asked to write a piece, they are usually given specific parameters of duration and instrumentation and then they are largely left to their own devices. Listeners coming to these pieces, after they are finished, might have a basic idea of where they will be taken on a sonic journey, based on their previous experiences with said composer's music or what they have gleaned about the composer prior to hearing the piece, but ultimately have no way of really knowing what they are about to hear and whether or not they will like it. It's a very different paradigm from putting on your favorite pop song over and over again, which I guess is the listening equivalent of going to the same beach in Acapulco every year as your vacation. I don't mean to be judgmental–different strokes for different folks, after all. But not for me! I am at my most charged and inspired when I'm about to embark on a completely new journey.
Maybe new music doesn't reach as many people as I feel it should because of people's reluctance to visit new places instead of seeking the comfort of familiar destinations. But I think there are tons of folks out there who enjoy exotic travel even more than I do—a photo of a man standing by an extremely steep waterfall drop in Guyana in one of my South American travel books terrifies me more than it beckons. That means we could have a bigger audience for new music if we did a better job of presenting it as an exciting journey to new and unfamiliar territory, which then, of course, folks can return to again and again as well.